Swimming in mug, dressed in denim
In May 2012, the Swedish denim label Tiger of Sweden presents the new jeans campaign Spring/Summer 2012 under the title 'Music Festival' with six females and males from fashion, graphic design, modeling, music in mug bathing scenes.
The images of the mug baths are shot by Marcus Palmqvist, styling by Christopher Insulander.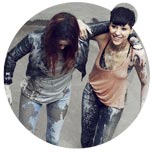 fig. original: Electropop-duo 'Icona Pop' (Caroline Hjelt, Aino Jawo) in women's jeans 'Slender' by Tiger of Sweden.
fig. original: Fashion professional/blogger Gustav Broström and graphic designer/DJ/producer Luca Deasti in Tiger of Sweden's 'Pistolero' jeans for men.

More impressions from the 'Music Festival' SS2012 campaign with Fashion-Girl/blogger Ida Rislöw and model/musician Rasmus Grosin are published on tigerofsweden.com/musicfestival.
Source: Original article with images on http://www.fashionoffice.org/collections/2012/tigerofsweden5-2012.htm.

more fashion.at/mobile>

News from
April 2012
March 2012
February 2012
January 2012
December 2011
November 2011

subscribe
terms
imprint
(C) Sawetz, since 1996