The Trendletter is adjusted for mobile phones! You can subscribe.

January 2012 - IV: Men 2012/13; Bike by Accessories Designer;...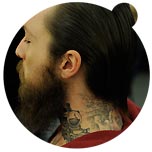 Tattooed neck and hands, beard and long hair ...at the Diesel Black Gold Fall/Winter 2012/13 show in Milan. For the 'rock-chic', the Italian label was inspired by...

Burberry's catwalk fashion film 'Fashion film' is a new beloved editorial format in fashion magazines. Now, even catwalk videos become more like fashion films...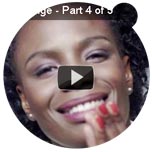 Musician Shingai Shoniwa ...speaks with accessories designer Fred Butler who styled up a bike for her. In February, Fred Butler presents during London Fashion Week...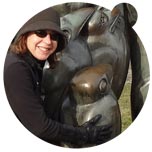 Bratislava Insight ...by Karin Sawetz: "The raven sculpture doesn't remember King Matthias Corvinus - he is the one who has thrown Dracula into the dungeon..."

Selected SHORT MESSAGES (from the FashionFeeds; available even on twitter.com/byFASHIONOFFICE):
23 Jan 2012 - #Trailer of the HBO #documentary of 40 years of #performanceart by Marina Abramovic
22 Jan 2012 - Diving goggles from Indonesia, snow shades from Alaska... and new #artworks in the Weltkulturen Museum, #Frankfurt
21 Jan 2012 - #SOPASTRIKE in numbers: 10 million signatures, 3 million emails, 2,2 million #SOPA on Twitter... protected free speech on the internet
20 Jan 2012 - #Catwalk #music by Giorgio Moroder for Louis Vuitton #menswear FW2012/13
19 Jan 2012 - #Music video 'The Man' by the #Viennese band Black Shampoo
19 Jan 2012 - #Rapper, spoken word poet, #singer, #author Dessa on tour with the rap crew Doomtree
18 Jan 2012 - #Video '#Taste.It' directed by Luca Finotti with #models from the FW12/13 shows in #Milan
18 Jan 2012 - #Movie trailer for 'Transformers: Fall of Cybertron' with #music featuring vocals by Milla Jovovich

Imprint (C) Sawetz, since 1996