Subscribe to the Trendletter!
October 2012 - I: Street Views; Hidden Ball Events; Jewellery + Communication Tools;...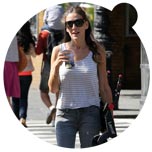 Sarah Jessica Parker in NYC
Palladium provides views on shoes from the label's collection via Paparazzi pictures which show 'Sex and the City'-star Sarah Jessica Parker...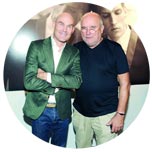 Street view of fashion at Times Square
Stefan Engström, Global Brand Director of J.Lindeberg, and photographer Peter Lindbergh presented the 'Times Square' fashion story...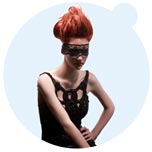 Eyes wide shut
...is the title of the famous Stanley Kubrick movie after Arthur Schnitzler's dramatic-erotical 'Dream Story'. The Austrian hairdresser Bundy Bundy pays homage to...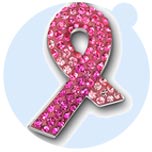 Jewellery inspired by women's communication tools
...seen at this year's Pink Hope Edition by Swarovski on occasion of international Breast Cancer Awareness month...

'The Perfect Bra'
The currently running 'The Perfect Bra' campaign at Intimissimi stores sounds like a market research of 'real' sizes; until 7 October 2012...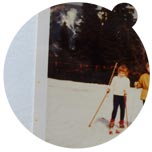 Skiing in the 1970ies
...review by Fashionoffice publisher Karin Sawetz. White woolen pullover, black ski trousers, red socks, wooden ski 'Brettln' by Fischer...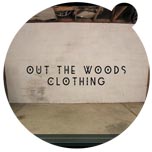 Music, t-shirts, charity for health care
...seen at the range of 'Out the Woods Clothing'. The label combines environmental friendly fashion, prints by musicians like alt-J...

Selected SHORT MESSAGES (from the FashionFeeds; FashionFeeds per Email subscription):
27 Sept - #MusicVideo 'Ask Me No Questions' by Canadian accordionist and singer Wendy McNeill
27 Sept - Virgin founder Richard Branson looks back in #music and speaks about The Sex Pistols
27 Sept - #ParisFashionWeek report on Fashionista "Dries van Noten Gives Grunge a High Fashion Makeover for Spring 2013"
27 Sept - #MusicVideo (part 2) for 'One Day/Reckoning Song' by Asaf Avidan and The Mojos (Wankelmut Remix)
26 Sept - #Underwater inspired SS13; Alberta Ferretti says "...dresses in which women could move light and floating as if there was an absence of gravity..."
26 Sept - #Street-view from #underwater started today on maps.google.com/ocean (reefs, turtles, fishes, manta ray...)
25 Sept - #MusicVideo premiere 'True Romance' by Citizens! on Jay Z's Life + Times
25 Sept - #Fashionoffice Content Trends (shares and clicks during the last six months, generated on 25 September 2012)
25 Sept - #Music 'Time to Go' by Wax Tailor feat Aloe Blacc from the album 'Dusty Rainbow From The Dark' (18 September)
23 Sept - #MusicVideo 'Love in the Old Days' by Daddy with spoken-word lyrics by James Franco from the album 'MotorCity' (25 Sept)
23 Sept - #Fashion label Louis Vuitton presents #boxing legend Muhammad Ali's words interpreted by #artist Yasiin Bey and calligrapher Niels Shoe Meulman

Imprint (C) Sawetz, since 1996