Subscribe to the Trendletter!
December 2012 - I: Mythology and Underwear; Movie Soundtrack; Beauty Video;...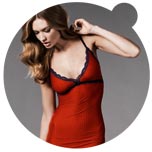 Angel or Devil?
Bruno Banani was inspired by the old mythology of Krampus and Saint Nicholas and sent some images for underwear in night blue and fiery red...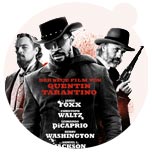 'Django Unchained'
The soundtrack consists of known tracks and new ones which were written for the film such as Rick Ross' '100 Black Coffins', John Legend's..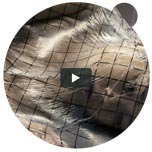 Beauty video
Artist Lucy McRae was inspired for Aesop's beauty video by Mary Shelley's horror story 'Frankenstein'. In Mary Shelley's novel, a scientist...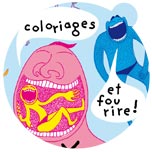 Interactive art books for kids
Fondation Cartier Paris presented the new coloring book 'Coloriages et fou rire avec Yue Minjun' from the collection of art books for kids...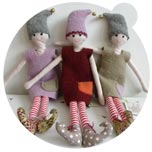 Puppets made from fabrics
The textile puppets by the Viennese label 'JoPi' are called 'Weihnachtswichtel' which means 'Christmas Dwarfs', and 'Guardian Angels'...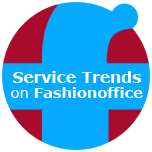 Service trends on Fashionoffice
...that caused Viral Lifts (shares/clicks) during the last seven days: Address Bar 350%, Facebook 23%,...

Selected SHORT MESSAGES (from the FashionFeeds; FashionFeeds per Email subscription):
29 Nov - #MusicVideo 'Christmas Eve Can Kill You' by Dawn McCarthy + Bonnie 'Prince' Billy (19 Nov, Domino Records)
28 Nov - Interview with #composer, #artist Fatima Al Qadiri about her debut 'Desert Strike' on RBMA Radio
28 Nov - Interview with Florence Welch about her new #musicVideo 'Lover to Lover' on Nowness
28 Nov - #MusicVideo 'Ice Age' by How to destroy angels_ (Mariqueen Maandig, Trent Reznor, Atticus Ross, Rob Sheridan)
27 Nov - #MovieTrailer 'Zero Dark Thirty' about the fight against terrorism, directed by Oscar winner Kathryn Bigelow (release in Dec, Jan...)
27 Nov - #Actress Barbara Sukowa as philosopher Hannah Arendt discovering 'the banality of evil' (movie out now)
27 Nov - #Actor Tom Skerritt in #musicVideo 'Holiday' by Poor Moon, directed by Austin Wilson and Harry R. Calbom
26 Nov - #Actress Elle Fanning in #beautyVideo 'Le Premier Parfum' by Lolita Lempicka, directed by Yoann Lemoine
26 Nov - Horror #MovieTrailer 'Mama' about two girls who were left alone in the forest for 5 years (release in Jan 2013)

Imprint (C) Sawetz, since 1996