The Trendletter is adjusted for mobile phones! You can subscribe.

April 2012 - I: Swimwear; Objective Journalism?; Earth Month...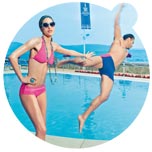 Bye, bye Captain! ...seen at the presentation of the new men's and women's swimwear under the title 'La Vita è Bella' by the Austrian bodywear label Skiny...

Is it difficult to stay objective as a journalist? Bag label Freitag invites to the lecture 'Journalism is a lie - Why the world can be described only subjectively' by Sibylle Berg...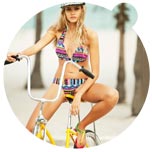 Bikini with Aztec print Primark presents new swimwear pieces for SS2012. The collection consists of two main lines: the sportive-comfortable Aztec beachwear and the...

Beauty & music for clean water In Earth Month 2012, Aveda organizes music concerts and collects with beauty products money for clean water projects by 'Viva con Agua'...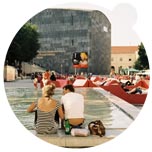 Ballerinas in sound tutus, interactive dresses... The MQ - MuseumsQuartier in Vienna presents in its main court fashion/art with performances like the 'Audio Ballerinas'...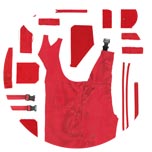 Work trousers incorporated into chairs Designer Daniel Kroh recycles work wear into tailored suits - and furniture; such as the red chairs at the Technisches Museum Wien...

Selected SHORT MESSAGES (from the FashionFeeds; available even on twitter.com/byFASHIONOFFICE):
27 March - Laminat is one of the #techno-#DJs at the Eastern Conference on 6 April at the Fluc Wanne in #Vienna
26 March - #Art film 'Out (Tse)' about body, state, sexuality, politics by Israeli artist, writer Roee Rosen; now in exhibition at Iniva in London
25 March - #Artist Cai Guo-Qiang (known for his visual effects at 2008 Summer Olympics in Beijing): exhibition at Mathaf, artwork for Lomography
25 March - "#Sports #journalists aren't as good as #fashion journalists when..." writes Hadley Freeman on The Guardian
25 March - #Music video French-pop-chanson 'Golden Baby' by Canadian 'Coeur de Pirate' (project by Beatrice Martin) from her second album 'Blonde'
23 March - #Music: listen to 'I'm A Man' by Mac DeMarco from the recently released debut solo EP 'Rock And Roll Night Club' on Pitchfork
23 March - #Music: 'The Pining pt2' by Clark (UK, Berlin based) from the upcoming album 'Iradelphic' (2 April, Warp Records)
22 March - #Artist Ndidi Dike about production, locally sourced materials, visual #culture in Nigeria and global #consumerism
21 March - #Sound #performer Paul Prudence's visual #concert at the L.E.V [Laboratory of Visual Electronics] Festival (27 - 28 April 2012, Spain)
21 March - #Music listen: album 'The Next Logical Progression' by Gift of Gab (out on 27 March, Quannum Projects)
20 March - #Music 'Perfect World' by Gossip from the upcoming album 'A Joyful Noise' (May 2012)

Imprint (C) Sawetz, since 1996