Subscribe to the Trendletter!

May 2012 - IV: New Constructed Classics (Bike Fashion, Dresses, Dance, Cars);...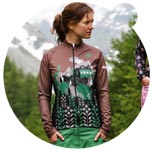 Bike fashion piece 'Skort' ...seen at the current collection by the German label maloja. The 'Skort' is a mix of skirt and shorts in one functional piece. Interesting construction!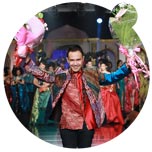 Raden Sirait ...presented new interpretations of the Indonesian kebaya dress at the annual Jakarta Fashion & Food Festival. The motto of this year's JFFF is 'Innofashion'...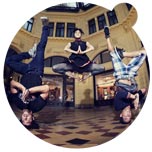 Dance, visual art, classical music ...seen at Red Bull Flying Bach World Tour. The 70 minutes dance performance combines street art, theatre and classical music...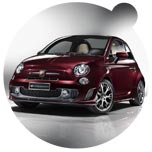 Style, originally created by Karl Abarth & Alfieri Maserati ...seen at the sporty designed Abarth 695 Maserati Edition. The car premiered at the road race Mille Miglia in Italy...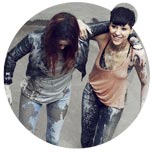 Electropop-duo 'Icona Pop' Caroline Hjelt and Aino Jawo are two of six people from fashion, modeling, music, graphic design in the new 'Music Festival' campaign by Tiger of Sweden...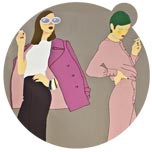 Wine and tobacco in art ...such as Kiki Kogelnik's work at exhibitions in Austria. The favorite art theme (excessive) 'enjoyment' with all consequences (joy first, sick later)...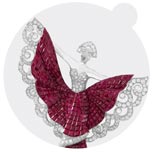 Silk Road Dancer ...by the Parisian jewellery house Van Cleef & Arpels refers to the Chinese dance theatre. The clip is part of the exhibition 'Timeless Beauty' at MOCA Shanghai...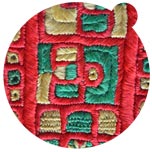 Emilie Flöge's textile samples ...influenced the style of the art movement 'Art Nouveau' in the beginning of the 20th century. The Austrian Museum of Folk Life and Folk Art exhibits...

Selected SHORT MESSAGES (from the FashionFeeds; FashionFeeds per Email subscription):
20 May - Video interview with #artist Ho Tzu Nyen about his work 'The Cloud of Unknowing'; exhibition at Mori Art Museum in #Tokyo (until 27 May 2012)
20 May - Christine Phung's #fashion collection about a girl who falls into a diamond mind; finalist at the #MangoFashionAwards
20 May - #Feminist #artist Lalla Essaydi will be awarded on 22 May 2012 with the SMFA Medal Award at the Museum of Fine Arts, #Boston
18 May - R.I.P. Donna Summer
17 May - #MusicVideo 'American Dream Part II' from the debut album 'Trouble' by TEED and call for #designers to create a head piece
17 May - #Music #performance in an interactive house installation by Swoon in #NewOrleans; next performances on 8 and 9 June 2012
16 May - #Music 'Mattic Featuring Artists Of The Beautiful' is dedicated to the urban art, music project Crimes Of The Mind (EP 'The Abstract Convention', 12 June)
15 May - #Music 'Ghost Lit' by Diagrams (music project by Sam Genders) from the new album 'Black Light'
15 May - 'Design for Dance' explores the relationship between #dance and #fashion by showing creations for the English National Ballet, 10 July in #London

Imprint (C) Sawetz, since 1996