Subscribe to the Trendletter!
August 2012 - V: T-shirts & Blogs; Perfume & Art & Ancestry;...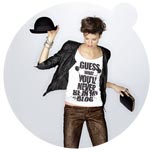 "You will never be in my blog"
...is written in bold letters on the white t-shirt by Guess and means as much as "you will never become important in my life" or something ruder...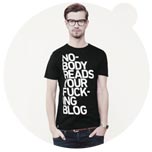 T-shirt with the theme statistics of blogs
Statistics as definition of the value of a person? The shirt label German Garment, co-founded by TV-moderator Joko...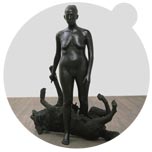 Kiki Smith's perfume and art
Addicts of exclusive fragrances know feminist artist Kiki Smith also from her perfume inspired by her grandmother's garden. In September, her art work...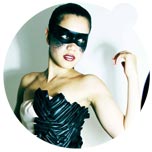 Mariella Morgana at the Vienna Fashion Week
...will show a collection of burned materials in combination with transparent fabrics - an analogy of the bad and good...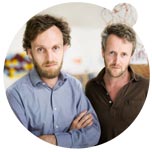 Ronan and Erwan Bouroullec
The work of the interior designers is exhibited under the title 'Bivouac' at the MCA Chicago. 'Bivouac' refers experimental 'flexible spaces'...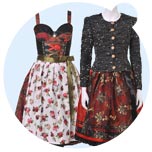 Dresses in European mountain style
...by ENA Trachten in vintage, ethno-folk style for the beer party 'Oktoberfest' which originates originally from Munich...

Selected SHORT MESSAGES (from the FashionFeeds; FashionFeeds per Email subscription):
21 August - #MusicVideo 'Big Bright World' by Garbage, directed by Julie Orser, new album 'Not Your Kind of People'
21 August - #MusicVideo 'Putin Lights Up the Fires' by #art group Pussy Riot
20 August - #MusicVideo 'Celebrate' feat. Pharrell Williams by Mika from the upcoming album 'The Origin Of Love' (16 October)
19 August - 'Die Life' by The Soft Moon from the new album 'Zeros' (30 October)
18 August - #Music Jun Miyake 'The Here And After' sung by Lisa Papineau
18 August - #MusicDownload title track 'Paperback Lover' by Karlie Bruce from the new album (4 September)
17 August - #MusicDownload 'Shoop Lion' by Dave Sitek
16 August - Condé Nast's action #game for girls '#Fashion Hazard'
16 August - #Photography that gives insights into authentic #StreetStyle from 1930 to 1980 (Tate Britain, until 16 September 2012)
16 August - #Technology of an #outdoor #jacket explained with an angry cat
16 August - #MusicVideo from the 'Cooking with mom-series' by The Sanctuaries, new track from the EP 'Not Guilty' (28 August, self-released)
16 August - 'Baking' of the puppet faces for the #stop-motion-animation #movie 'ParaNorman'

Imprint (C) Sawetz, since 1996