Hunting, loving... in the forest
...seen in September 2012 at the new campaign for the Fall/Winter collection by the label 'Tu Felix Austria'. The center theme of the campaign is 'voyeurism' and includes both - spying and stalking.

For insiders of the Austrian political situation (and how the 'networking scene' has discredited hunting in the last years), lies a special, dark humour in the image right which shows a hunter who has shot a kid's stuffed animal. For observers of the country's political affairs (corruption), the image can tell the story of the ones who have the 'license to devastate' the properties of the country while kids and parents are helpless against the obvious injustice which happens - as long as there is no condemnation - in a legal framework.
fig. original: The photo shows the scene with a stupid hunter and family; campaign image for the Fall/Winter 2012/13 collection by Tu Felix Austria. Photo: (C) Markus Morianz.
The campaign for the new men's, women's, kids and baby collection consists of a series of photos, shot by photographer Markus Morianz. The images tell various stories such as the one on the photo below about two lovers in a tent who are observed in their privacy by 'spy-animals'.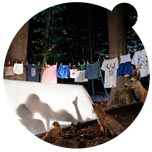 fig. original: Lovers in a tent surrounded by spying animals; campaign image for Fall/Winter 2012/13 by Tu Felix Austria. Photo: (C) Markus Morianz. Find other images of the series such as musicians who are opening new doors of perception after eating mushrooms on tufelixaustria.at.
Source: Original article with images on http://www.fashionoffice.org/collections/2012/tufelixaustria9-2012.htm.

more fashion.at/mobile>

News from
September 2012
August 2012
July 2012
June 2012
May 2012
April 2012
March 2012
February 2012
January 2012

subscribe
terms
imprint
(C) Sawetz, since 1996