Fashion that reflects urban life
From 3 to 7 July 2012, ten Austrian fashion, bags, accessories, jewellery, home interior labels and projects present their goods under the title '1A - Austrian Upcycling Showroom' at the 'Upcycling Fashion Store' during Berlin Fashion Week. The addicted recyclers use materials from everyday urban life like bicycle tubes, plastic closures from milk packages, waste from textile cutting, clothing, or old electronic devices and upgrade them into new lifestyle pieces.
The in-store presentation from 3 to 7 July at the 'Upcycling Fashion Store' is accompanied by events like the opening party on 3 July or the Upcycling Fashion Show on 5 July 2012 (schedule).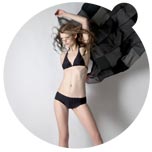 fig. original (from above, left to right):
Black bikini and scarf from the 'Les choses de la vie' collection by mija t. rosa. Photo (C) Julia Spicker | Photography. The collection 'Les choses de la vie' is inspired by late 1960s, 1970s French cinema. Claude Sautet's movie 'Les choses de la vie' (1970) gives the collection its title and the bikini on this page is inspired by the movie 'The Swimming Pool' (1969) with Alain Delon and Romy Schneider in the main roles. 'Telling stories without lying' is the motivation behind the mija t. rosa fashion creations by designer Julia Cepp who works on authentic clothing for the representation of contemporary femininity. The label recycles unused textiles and turns the waste from the cutting into patchwork pieces or transforms white men's shirts into wide tops.
Bracelet upcycled from bicycle tubes by Carin Fürst for Berlin Fashion Week. Since 2003, Carin Fürst recycles wasted material into jewellery.
Bag 'Komet' by kontiki. Photo (C) copyright kontiki wien/2009. Kontiki works with bicycle tubes.
Dress 'Kirschenernte' (transl. 'Cherry Harvest') for girls by Kamaeleon. The kids fashion label uses old men's shirts and recycled fleece from PET-bottles.
Necklace 'Chamaeleon' by Milchring is made of plastic closures from milk packages.
Additionally to design labels, the '1A - Austrian Upcycling Showroom' present fashion and lifestyle pieces by social projects like tagwerk, a young people project organized by the Caritas Steiermark with focus on the recycling of used clothing, and the TrashDesignManufaktur (supported by the AMS Wien and the ESF-European Social Fund) where home interior and accessories are created from old electronic devices. Find the full list on upcycling-fashion.com.
fig. original: Insight into the Upcycling Fashion Store at the Linienstraße 77 in Berlin.
Source: Original article with images on http://www.fashionoffice.org/collections/2012/upcycling6-2012.htm.

more fashion.at/mobile>

News from
June 2012
May 2012
April 2012
March 2012
February 2012
January 2012

subscribe
terms
imprint
(C) Sawetz, since 1996