Tips for fashion equipment on motorbikes in autumn

...sent in mid-October 2012 by the Austrian two-wheel vehicles distribution group Faber which offers from Moto Guzzis to Vespas even street fashion products.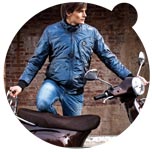 fig. original: Scooter and rain jacket by Vespa, trend tip autumn 2012 sent by Faber. Only to give an impression of the use of scooters in Austria: Faber reports that more than 25.000 scooters have been registered since the beginning of 2012. (Austrian inhabitants: approximately 8,5 million people.) Photo: (C) Faber GmbH.
Additional tip by Faber concerning the tires: take care! The grip of normal tires decreases significantly below 7° Celsius. Use winter tires with softer rubber which creates more grip. Winter tires' coarser profile directs rainwater faster.
fig. original: Sleeveless down vest in asphalt-grey and blue, red rain jacket; both by Vespa, seen in autumn 2012. Photos: (C) Faber GmbH.
Source: Original article with images on http://www.fashionoffice.org/motor/2012/vespa10-2012.htm.

more fashion.at/mobile>

News from
September 2012
August 2012
July 2012
June 2012
May 2012
April 2012
March 2012
February 2012
January 2012

subscribe
terms
imprint
(C) Sawetz, since 1996