A designer who doesn't like safe-side-games
On 13 September 2012, emerging designer Mariella Morgana will show her collection for the first time at the MQ Vienna Fashion Week.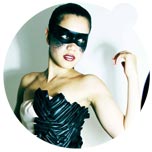 fig. original: White dress with sculptural half-part corsage made of braided black leather alike material by Mariella Morgana. Photo: (C) Mariella Morgana.
It is announced that the designer's new collection consists of burned materials which are combined with transparent fabrics - an analogy of the bad and good things that happen in life.
The designer's aim is to prove that even the burned or the 'kaputt' carries beauty and power.
Mariella Morgana says: "I don't like safe-side-games, I love the risk," and continues, "...my character and my working style turn each project into an adrenalin experience." (Translated from the German text: "Ich kann safe-side-spielen nicht ausstehen, ich liebe das Risiko. ... mein Charakter und meine Arbeitsweise machen jedes Projekt bei mir zum Adrenalin-Ausschütter.")
How has Mariella burned the fabrics? On 13 September at 17.00 Mariella Morgana will show the results of her non-safe-games at the MuseumsQuartier in Vienna.
Source: Original article with image on http://www.fashionoffice.org/collections/2012/viennafashionweek8-2012.htm.

more fashion.at/mobile>

News from
July 2012
June 2012
May 2012
April 2012
March 2012
February 2012
January 2012

subscribe
terms
imprint
(C) Sawetz, since 1996