29 October 2012 - Short Message
Electronic-punk-dancefloor #musicVideo 'Stamina' by Vitalic from the album 'Rave Age' (5 Nov, PIAS America)
Recently, French musician Vitalic released the video for one of the tracks from the upcoming album 'Rave Age'. The video for the punk-electronic-dancefloor track 'Stamina' (directed by Saman Keshavarz) is a funny-brutal video about eating disorders and the strange custom of fighting against the results of bad nutrition with over-exercising.
Funny and brutal realistic videos seem to be signature for Vitalic. Another video for example, 'Second Lives' (album 'Flashmob') shows an elegant toilette visited by people who look as if they are working in one office. While they are doing whatever people are doing on the toilette, they are captured from the static angle of a secret observation camera.
Vitalic is on tour: 31 Oct Treviso (Italy), 2 Nov Brighton (UK), 9 Nov London (UK),... followed by other European cities. More on vitalic.org/website/gigs.html.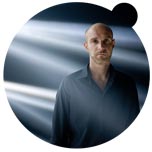 fig. original: Dancefloor visionary Vitalic (alias Pascal Arbez). Photo by Vincent Arbelet.
Video: 'Stamina' by Vitalic from the album 'Rave Age' (5 Nov, PIAS America). Credits.
News from
October 2012
September 2012
August 2012
July 2012
June 2012
May 2012
April 2012
March 2012
February 2012
January 2012

subscribe
terms
imprint
(C) Sawetz, since 1996