A man and a woman in sparkling and other situations
...seen in late October 2012 at the labels by artist Mari Otberg for the bottles of the special Gastro Collection by the Austrian natural water brand Vöslauer.
The art collection consists of six motifs, three for each of the themes 'togetherness' and 'festive enjoyment'.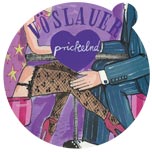 fig. original: 'Togetherness' shows a couple in three situations. The 'sparkling' situation is depicted with a scenery of a woman in sexy black tights, red shoes and dress with star-print together with a man in a bar, while 'ohne' (which means as much as 'without') shows a couple eating cake. 'Mild' is symbolized by a glamorous dressed woman who drinks together with a man from the signature water bottle (wave sculptured surface) by using straws.
fig. original: Artist Mari Otberg (born 1969 in Stuttgart, Germany) is living in Berlin, Vienna and in the Wachau in Lower Austria. She has created the labels of the special edition of the Vöslauer Gastro Collection 2012.
The edition of 0,75l glass bottles with art labels will arrive together with drinking glasses and coolers - both dressed up like the bottles with the illustrations by Mari Otberg, at the Austrian gastronomy in November 2012. It is announced that the limited edition will be served for the duration of four months.
Photos: Vöslauer.
Source: Original article with images on http://www.fashionoffice.org/cuisine/2012/voeslauer10-2012.htm.

more fashion.at/mobile>

News from
October 2012
September 2012
August 2012
July 2012
June 2012
May 2012
April 2012
March 2012
February 2012
January 2012

subscribe
terms
imprint
(C) Sawetz, since 1996