Men's signature sunglasses of our times?
Probably these are the signature glasses of our times: you can find this style of masculine-sportive sunglasses on the noses of Dandies like designer, photographer Karl Lagerfeld and Hollywood actor, ambassador of 'Vogue Eyewear' Jude Law.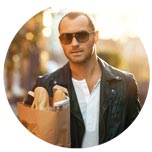 fig. original: Jude Law (ambassador of the fall/winter 2012/13 campaign) wearing sunglasses by Vogue Eyewear in the new 'Vogue Eyewear for Men' FW2012/13 campaign. In London born actor Jude Law is known from Hollywood movies like 'Sherlock Holmes' where he was starring in the role of 'Dr. Watson' on the side of Robert Downey Jr, 'Cold Mountain' with Nicole Kidman, or 'Gattaca' with Ethan Hawke and Uma Thurman.
The Vogue Eyewear for Men FW2012/13 campaign was shot by iconic fashion photographer Peter Lindbergh at the end of January in London.
fig. original: Sunglasses from the 'Vogue Eyewear for Men' collection by Vogue Eyewear. Photo: (C) Franco Pizzochero. The line was launched in April 2012 with Jude Law as the face of the FW2012/13 campaign.
Source: Original article with images on http://www.fashionoffice.org/collections/2012/vogueeyewear6-2012.htm.

more fashion.at/mobile>

News from
June 2012
May 2012
April 2012
March 2012
February 2012
January 2012

subscribe
terms
imprint
(C) Sawetz, since 1996