Fashionoffice likes: Colors for Spring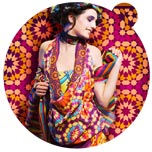 ...such as seen at the scarves and foulards (fig. original) by the German color mixer Michael Sieger who was inspired by the esthetics of the art and culture of the Orient, especially the ornaments he found on his journey in Marrakech (Morocco, North Africa). Michael Sieger designs porcelain collections, men's wear, accessories for women, decor of sports cars and outfits for drivers. For the foulard collection SS2012, Michael Sieger interpreted his impressions of the Moroccan city's architectural ornaments into accessories pieces with geometrical, abstract flower patterns. The collection is entitled 'Scheherazade' after the female figure from the tales collection '1001 Nights' - Scheherazade is a sort of survival-storyteller. Sieger, (lookbook of the prints) Spring/Summer 2012.

fig. original:
Eardrops (gold, rubies) by Vienna based jeweller Skrein, seen in April 2012.
Powder 'Terracotta Light' by Guerlain from the Terracotta Collection 2012. The makeup is made of bronzing tones and colors for a fresh and sun-tanned skin. The powder comes in four tones: Blondes (rosé colored pigments), Sun Blondes, Brunettes (coral colors), Sun Brunettes.
Andy Warhol (for men and women) by New York based perfumery Bond No. 9; seen in April 2012. The picture on the bottle shows pop-art icon Andy Warhol in the age of 35; he wears a trench coat, white skirt, tie and black sunglasses. The image was made in a photo booth in 1963 or 1964 and marks the start of his serial (inspired by the running images of film and the picture strip of a photo booth shooting) screen printed celebrity portraits in changing colors.
Source: Original article with images on http://www.beautyme.com/fragrance/2012/womenspringstyle4-2012.htm.

more fashion.at/mobile>

News from
March 2012
February 2012
January 2012
December 2011
November 2011

subscribe
terms
imprint
(C) Sawetz, since 1996