Motto with sexual connotation?
...seen on women's and men's t-shirts by the Austrian/Swiss in Zürich based label Zacharia Angel which was founded by the Vorarlberg native (born in the Bregenzerwald, AT) and former DJ Andreas Mennel. Sexy illustrations such as 'Famous Panties' or 'Famous Lips' with the slogan 'Desire' are signature designs of the label.
The slogan 'Take what's yours' on the t-shirts on this page is stitched in almost invisible fashion. It is the overall motto of the label and can be read in connexion with the party, club, nightlife, enjoyment style of Zacharia Angel with sexual connotation - but not necessarily.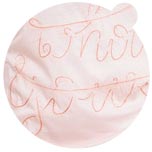 fig. original: Rosé t-shirt 'Classy' for women, ivory t-shirt 'Deluxe' for men, by Zacharia Angel, SS2012.
Source: Original article with images on http://www.fashionoffice.org/collections/2012/zachariaangel5-2012.htm.

more fashion.at/mobile>

News from
May 2012
April 2012
March 2012
February 2012
January 2012

subscribe
terms
imprint
(C) Sawetz, since 1996