Couture, prêt and the things that happen between 'heaven and hell'
The mix of couture and prêt-à-porter for pieces that reference thrilling femininity is the signature style of the German label 'Kaviar Gauche'. The name of the label is derived from the glamorous French revolutionaries of the late 1960ies who lived the coincidence of opposites.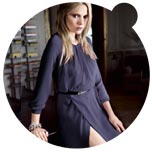 fig. original: In September 2012, online retailer Zalando presents the new collaborative 'Kaviar Gauche for Zalando Collection' of 20 items for women (clothing pieces made of lace, transparent fabrics, knit, etc, accessories, shoes). The collection will hit the online store in October. Watch the (German language) video for the preview of some of the collection pieces and insights into the studio of the designers and the collaboraton with Zalando.
The Berlin-based label Kaviar Gauche by the design duo Johanna Kühl and Alexandra Fischer-Roehler premiered with a guerrilla fashion show at the department store Colette in Paris in 2004. Their fashion could be described as prêt-à-porter with couture appeal. The duo is inspired by a wide range of themes such as the 'Vicious Virgins' FW2012/13 collection (video below) was developed under the working title 'heaven and hell' and consists of fetish materials (leather, vinyl, metal) and snow-white fabrics - for the "electrifying contrast" such as the label states in its own magazine on kaviargauche.com.
Highlights of the latest collection Spring/Summer 2013 'Toxic Touch' (catwalk video from 4 July in Berlin) are pieces made of semi-transparent laser-cut fabrics with patterns that look like early video-game pixelation applied to the body.
Video: 'Vicious Virgins' FW2012/13 collection by Kaviar Gauche during Mercedes-Benz Berlin Fashion Week in January 2012. The German daily newspaper 'Tagesspiegel' is cited on kaviargauche.com/....Magazin-AW2012.pdf: "There are still labels, where the VIPs visit the show and sit in the front-row by their own choice. Kaviar Gauche is one of them." The photo beneath the citation shows in the front row Vogue Chief Editor Christiane Arp, actresses Heike Makatsch and Nora von Waldstätten, etc.
Source: Original article with image and video on http://www.confashion.com/fw2012/zalando9-2012.htm.

more fashion.at/mobile>

News from
August 2012
July 2012
June 2012
May 2012
April 2012
March 2012
February 2012
January 2012

subscribe
terms
imprint
(C) Sawetz, since 1996