David Bowie's impact on art and fashion
Currently (until 11 August 2013), the world touring V&A Museum exhibition 'David Bowie is' shows more than 300 artifacts like costumes, album artworks, set designs of the British musician's stage performances at the Victoria & Albert Museum in London. The entertaining exhibition (BBC provides insights) about 50 years music and its impact on culture travels later this year to Toronto, Canada (Sept - Nov 2013), next venue is Sao Paulo, Brazil (Jan - April 2014), followed by Chicago, US (Sept 2014 - Jan 2015), Paris, France in 2015, Groningen, Netherlands in 2015/16, etc.
Two of the main themes of the exhibition are David Bowie's influence on art and his collaborations with designers. The touring retrospective provides insights into the career of David Bowie and the cultural and social changes of the last five decades which are the sources for the symbolic, contentual material of today's artists and designers such as Bowie's alter ego 'Ziggy Stardust'; the musician's creation marks a historical change in society.
David Bowie's role 'Ziggy Stardust' stands for new gender culture and revolutionary movements in the 1970ies; to mention two examples how artists, designers handle this 'vocabulary' today: at the British Pavilion at this year's La Biennale di Venezia, Jeremy Deller created one room which captures society's changes from the music perspective by referencing David Bowie's Ziggy Stardust tour in 1972-73 and civil rights movements at that time. Another example for Ziggy Stardust's symbolic role in today's cultural consciousness, in this case fashion, is Mango's current autumn collection with the musician's face on a t-shirt which stands for rebel-punk-rock.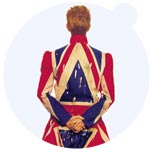 fig. original: Original photography for the 'Earthling' album cover, 1997. Union Jack coat design: Alexander McQueen in collaboration with David Bowie. Photo (C) Frank W Ockenfels 3. The image was provided by the Museum of Contemporary Art (MCA) Chicago where the touring exhibition 'David Bowie is' (organized by the Victoria and Albert Museum, London) will be on show between September 2014 and January 2015. World tour dates on www.vam.ac.uk/content/exhibitions/david-bowie-is/touring-exhibition-david-bowie-is/.
Source: Original article with image on http://www.fashionoffice.org/culture/2013/davidbowie8-2013.htm.

more fashion.at/mobile>

News from
July 2013
June 2013
May 2013
April 2013
March 2013
February 2013
January 2013

subscribe
terms
imprint
(C) Sawetz, since 1996