9 January 2013 - Short Message
H&M announces the launch of the new label '& Other Stories' with #SocialMedia
At this time, the website stories.com is minimized to a carrier of links to Social Media (Facebook, tumblr, Twitter, YouTube; checked today, after Fashionoffice received the press information).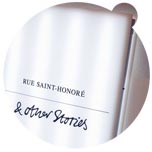 fig. original: The image shows an illuminated book or laptop with the name of the street 'Rue Saint-Honoré' of the & Other Stories shop in Paris.
On YouTube, H&M introduces into the wide range of the new brand & Other Stories with videos about leather craftsmanship (bags - video below), jewellery, shoes, the video 'Rose Revival' references the beauty products of & Other Stories, etc. On tumblr, the first looks of collection items and insights into the ateliers in Paris and Stockholm are published, and on Facebook - well, there is posted partly what appears on YouTube and tumblr, but spiced with a more personal touch such as backstage impressions from the SS2013 collection shooting.

& Other Stories stores will open in spring in ten European countries; seven cities: Berlin, London, Milan... and on stories.com.
News from
December 2012
November 2012
October 2012
September 2012
August 2012
July 2012
June 2012
May 2012
April 2012
March 2012
February 2012
January 2012

subscribe
terms
imprint
(C) Sawetz, since 1996