Smaller than a motorcycle, larger than a minibike
In early January 2013, Honda presented the new funbike MSX125. The funbike is smaller than a motorcycle but larger than a minibike which positions the rider ergonomically into a good position and enables at the same time better handling in the city. The broad 12-inch wheels are great for urban landscapes with cobbled or rough streets and they make it easier to conquer tramway tracks, etc. Honda focuses with the funbike on the younger generation and trendy elders. In Austria (available in May), Honda advices the MSX125 for the ones who ride for the first time on motorcycles on streets (license with 16 years) and love unconventional design. The ones who love their shoes, should choose a scooter with automatic or a bike with hand control - the MSX125 funbike has a 4-stroke engine and pedal control.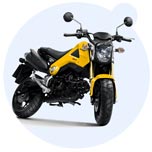 fig. original: The new Honda MSX125 in 'Pearl Queen Bee Yellow', January 2013. The motorbike is available in yellow, red (Pearl Valentine Red), black (Asteroid Black Metallic), and white (Pearl Himalayas White).

Honda MSX125 video 'Clutching Adrenaline' (posted on 8 January 2013).
Source: Original article with image and video on http://www.fashionoffice.org/motor/2013/honda1-2013.htm.

more fashion.at/mobile>

News from
December 2012
November 2012
October 2012
September 2012
August 2012
July 2012
June 2012
May 2012
April 2012
March 2012
February 2012
January 2012

subscribe
terms
imprint
(C) Sawetz, since 1996