Subscribe to the Trendletter!
March 2013 - V: Beach Inspirations; Partywear; Sit In Series;...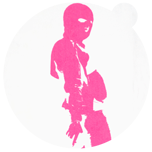 Bikinis, beach towel with 'Spring Breakers' motifs
At first, the items look like Pussy Riot beach outfits, but the design is derived from the crime-comedy 'Spring Breakers'...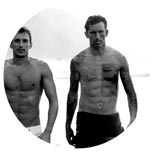 Kiteboarder Youri Zoon, triathlete Josef Ajram
...and freediver Guillaume Néry are the faces of the 'Live like a Man 2013' campaign for Biotherm Homme skin care products...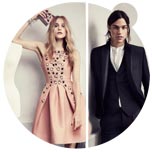 Fashionoffice's favorite partywear pieces
...from the H&M 'Conscious Exclusive' collection. The name 'Conscious' is derived from H&M's design approach that foresees...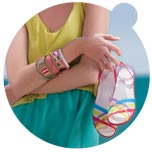 Translucent, light material for flats, flip-flops and wedges
...seen at the new SS2013 collection by Crocs. The shoes are inspired by the handwoven Mexican sandal 'huarache'...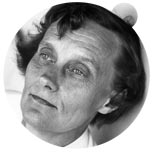 Sit In Series: Day Ten
Log series by Fashionoffice publisher Karin Sawetz. Day Ten is about learning, language and the Astrid Lindgren Memorial Award for kids' literature...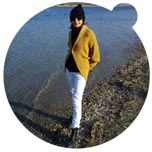 Sit In Series: Day Nine
Log series by Fashionoffice publisher Karin Sawetz. Day Nine is about women, art and technology at Mz Baltazar's Laboratory in Vienna...

Selected SHORT MESSAGES (from the FashionFeeds; FashionFeeds per Email subscription):

+Movies, art
26 Mar 2013 - #Trailer 'Scary #Movie 5', parodies 'Black Swan', 'Mama', 'Inception'... (release starts in April)
20 Mar 2013 - #Movie trailer 'The Company You Keep' directed by Robert Redford (release on 5 Apr US; EU, Australia, Brazil...)
24 Mar 2013 - #Art video by Erika Tan about #culture symbols, 'The Chinese Chippendales' from the 'Sensing Obscurity'-series
+Music
24 Mar 2013 - #Music video for Aluna George's new single 'Attracting Flies', directed by Emil Nava
23 Mar 2013 - #Music video directed by Naïla Guiguet and Stéphane Haiun for 'Silver Bed' by Red Axes (EP out now on I'm a Cliché)
22 Mar 2013 - 'So Much Music' by Liam Hayes; soundtrack 'A Glimpse Inside The Mind Of Charles Swan III' (released 19 Mar)
21 Mar 2013 - #Music download MP3 Pony Boy's 'Greatest Unknown' on Nylon "it's like a trip ... to Twin Peaks..."
+Statistics
21 Mar 2013 - Popular Content, Clickrates, Viral Lifts on #Fashionoffice (last 7 days - 21 Mar 2013; AddThis, FeedBurner, Adsense)

Imprint (C) Sawetz, since 1996