Subscribe to the Trendletter!
May 2013 - IV: Beachwear and Poolside Companions;...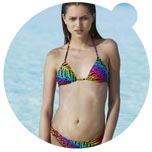 Beachwear and sun protection accessories
Primark's neon-prism colored, wild cats printed triangle bikini, styled up with straw hat and multi-colored sunglasses...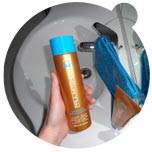 Poolside companion for hairs
Hair Product Review by Karin Sawetz, publisher Fashionoffice. Paul Mitchell's new 'sun'-line received the 'Prix de Beauté' by the magazine Cosmopolitan...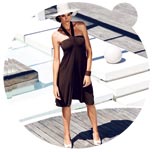 Beach skirt and pool party dress in one
Coffee brand Tchibo announced that the dress 'Vario' will arrive at the label's coffee bars in the second week of June...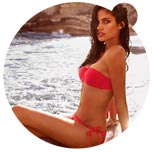 Calzedonia's beachwear
Fashionoffice received new images from current beachwear collections of bikinis, swimsuits and shorts for men. Two of the selected pieces show dramatic...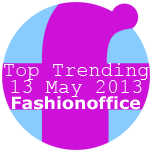 Top Trending on Fashionoffice
No other content on Fashionoffice achieved so much attention (pageviews) like the 'Hunter's Life'. The new series by Fashionoffice publisher...

Selected SHORT MESSAGES (from the FashionFeeds; FashionFeeds per Email subscription):

+Music
12 May - #Music video 'I Appear Missing' by Queens of the Stone Age, album '...Like Clockwork' (release 4 June, Matador)
11 May - #Music Eric Burdon/Jenny Lewis' version of 'Don't Let Me Be Misunderstood' for HBO's True Blood soundtrack (28 May, ATO Records)
10 May - #Music video 'Home' by Austra, filmed with a secret camera behind a mirror, album 'Olympia' (17/18 June; tour in EU and US)
+Motor, art, beauty, jewellery
12 May - Short film 'Desire', Shannyn Sossamon as woman in bad domestic situation, Damian Lewis as car deliverer
12 May - Czech artist Daniel Pešta's project 'I was born in your bed' at the 55th edition of the Biennale di Venezia
9 May - Making-of video Kate Moss for #beauty label St.Tropez, about sun-tan without sun damages
8 May - #Music Shirley Bassey's 'Love Story' for 'Reinvent Yourself' with Diane Kruger by #jewellery house Jaeger-LeCoultre

Imprint (C) Sawetz, since 1996