Subscribe to the Trendletter!
June 2013 - II: Lifestyle at La Biennale di Venezia; Cuisine at Film Festival de Cannes;...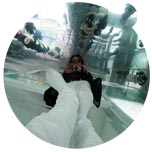 When you visit Venice, wear nice socks!
The light of the mirror room by Kimsooja at the Korean Pavilion changed with the people's wardrobe. The visitors stood there in their socks...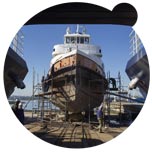 Portugal's touring pavilion at La Biennale di Venezia
The pavilion by Joana Vasconcelos is a multifunctional art-culture-venue-water vehicle which will travel in Venice...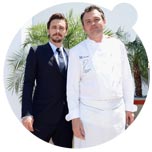 James Franco and Bruno Oger at Electrolux in Cannes
The relation between the film festival and Electrolux could be summarized as 'vice versa'. Cooks created movie-menus...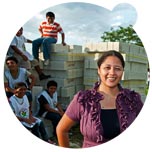 Maritza Morales Casanova's environmental education
...is one of five projects at the Rolex Awards for Enterprise. Another project is the smartphone design for blind people...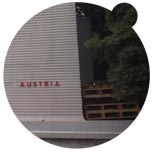 Karin Sawetz' 'Hunter's Life' series
"I don't know what the content of Austria's pavilion at this year's Biennale in Venice will be. And it isn't important anyway! Since I received..."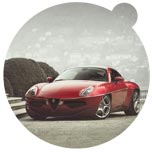 Car name 'Disco Volante' crowd-created in the 1950s
Alfa Romeo provides insights into the history of the name creation of the Disco Volante by Touring which won the 'Design Award...'

Selected SHORT MESSAGES (from the FashionFeeds; FashionFeeds per Email subscription):

+Music
1 June - #Music video for Tricky's 'Nothing Matters - feat. Nneka', album 'False Idols' (out now)
1 June - #Music 'Boxeo - feat. Lido Pimienta' by El Remolón, documentary 'Boxeo Constitución' about boxers in Buenos Aires
1 June - #Music 'Secret Garden' by Snow Ghosts from the album 'A Small Murmuration' (8 July via Houndstooth)
31 May - #Music performance by Radiation City at Austin's Cathedral of Junk (on tour in US)
31 May - #Music download 'Bad Dreams' by Touché (album 'It's Fate', released in May) in Midnight Magic Remix
31 May - #Music premiere 'Over You Again' by The Dig, 'Tired Hearts' EP (out on 4 June, on tour in US)
28 May - #Music Deap Vally's '(She's A) Wanderer' from HBO's True Blood soundtrack Vol. 4 (28 May, ATO Records)
28 May - #Music video 'The Murderer' by Mike Marlin, album 'Grand Reveal' (out now)
26 May - #Music video 'Fixurlifeup (feat. Prince)' by 3rdEyeGirl (out now)
26 May - #Music 'Is That Your Life' from the album 'False Idols', out on 27/28 May; stream on...
+Art
31 May - Swarovski's lens and John Pawson's design for new experiences of space, architecture #LaBiennalediVenezia
28 May - Genevieve Bell about innovation, high-tech industry at International Symposium on #Electronic #Art in #Sydney
26 May - "...raising our voices against conformity." Jordi Balló, curator of Catalonia at #LaBiennalediVenezia
+Statistics
28 May - Last 7 days, generated on 28 May 2013 at 7.15 by Blogger.com, Google Analytics, AddThis, FeedBurner, Adsense

Imprint (C) Sawetz, since 1996