Subscribe to the Trendletter!
June 2013 - VI: Makeup inspired by Latin America; Mountain Style 2014; Jewelry for Travel Log Book;...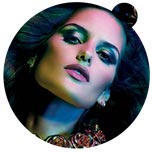 MAC's new makeup is inspired by Latin American culture
MAC Cosmetics is known for its limited editions with references to seasonal lifestyle or to Zeitgeist themes...

Preview mountain style summer 2014
German outdoor fashion and mountain sports brand Vaude provided previews of the new Spring/Summer 2014 collections which will be...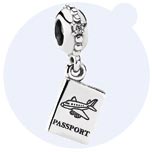 Jewellery for making a travel log book
Pandora's travel-charms with souvenir motifs of destinations and symbols for journey such as Russia's national icon Red Square in Moscow...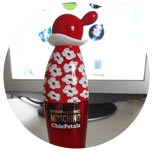 Moschino's cartoon puppet filled with wild strawberry
Moschino's signature flacon from the Cheap And Chic line shows the silhouette of Olive Oyl, known from 'Popeye' films...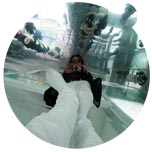 When you visit Venice, wear nice socks!
The light of the mirror room by Kimsooja at the Korean Pavilion changed with the people's wardrobe. The visitors stood there in their socks...

Selected SHORT MESSAGES (from the FashionFeeds; FashionFeeds per Email subscription):

#Music
25 June - #Music video (Karen O singing acapella in a bar scene) 'Despair' by Yeah Yeah Yeahs, album 'Mosquito' (out now)
25 June - Best new #music track on Pitchfork 'Bipp' by Sophie, 'Bipp/Elle' single; tour London, Ibiza, Isle of Wight...
21 June - #Music video (clothing and #styling by Aritzia) 'All The Days' by Haerts (on tour in North America)
+Sport and Fashion, Venice Discovery, Art
24 June - On occasion of #Wimbledon - #Vogue selected images of #tennis players from the magazine's archive
24 June - #Fashion film by Dandy Diary '#fashionooball // Streaker at Dolce and Gabbana'
23 June - #Travel video - #Venice discovery with cameras on aircraft kites by Team BlackSheep
22 June - #Art installation 'Analgesia' by Italian artist Paolo Grassino at Galerie Mario Mauroner #Vienna (26 June - 10 September 2013)
22 June - #Sport #art #history Christian Jankowski's 'Heavy-weight History' at Centre for Contemporary Art Ujazdowski Castle, Warsaw (Poland)

Imprint (C) Sawetz, since 1996