Subscribe to the Trendletter!
July 2013 - II: Love Poem to Paris; 'Paradox' at Berlin Fashion Week; Anonymity - Pro and Contra;...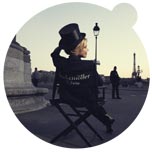 TV-personality Sylvie van der Vaart's view on Paris and an author's attribution
Lingerie label Hunkemöller presented the book 'Chère Paris' written by author Sophie van der Stap...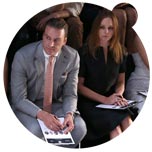 John Cloppenburg and Stella McCartney
...at the 'Designer of Tomorrow' presentation during Mercedes-Benz Fashion Week. Ioana Ciolacu Miron's collection 'Paradox' received the first...

Artist Frank Schallmaier and curator Bogomir Doringer
...spoke about anonymity online at the press conference for the exhibition 'Faceless' at quartier21, MQ Vienna...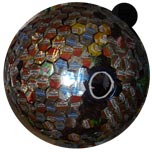 A Pilsener space capsule?
Simón Vega's capsule at the Latin American Pavilion carries the name 'Third World Sputnik' and refers an Soviet Space flight with mannequin on board...

Top 10 (most popular, most viewed) Fashionoffice pages and clickrates in June 2013
Reports generated via Quantcast, FeedBurner, AddThis, Google Analytics...

Selected SHORT MESSAGES (from the FashionFeeds; FashionFeeds per Email subscription):

#Art, #environment, #music, #sport, #travel, #fashion, #HauteCouture, #menswear
5 July - #Art - Artistic experiments for finding new ways to deal with social situations... at #FrankfurterKunstverein
5 July - #Environment - 'The Overview Effect' from a space capsule (video min 7:25) "The world is one system, we are part of that system"
5 July - Video premiere: #music for traveling Andy Burrows' 'Keep On Moving On', album 'Company' (out now)
4 July - #Fashion #sport #travel video: rider Pierre Mesnage for Picture Organic Clothing (Environmental Excellence 2013 - ISPO award)
4 July - #Music 'Melody Calling' by The Vaccines (tour July in FR, UK, IT, ES... Aug in US...)
4 July - Play with nudity, embroideries, crystals; seen at Elie Saab #HauteCouture FW13/14
4 July - #Music video on Pitchfork "Justin Timberlake's 'Tunnel Vision' Video Features Lots of Female Nudity, Timbaland"
4 July - Backstage video Maison Martin Margiela SS2014 #menswear, #music: Lori Schonberg & LudoStrak
3 July - Electro pop #music 'Romance & Cigarettes' by Paris-based The Toxic Avenger (EP out now, album follows in Oct)
2 July - Provocative #music video 'Innocence is Kinky' by Jenny Hval (tour in Norway, Sweden, US...)
2 July - #Music video with skater, choreographer Braden Overett 'Romanticize Me' by hardcore rock band Pissed Jeans (tour in EU, US...)

Imprint (C) Sawetz, since 1996