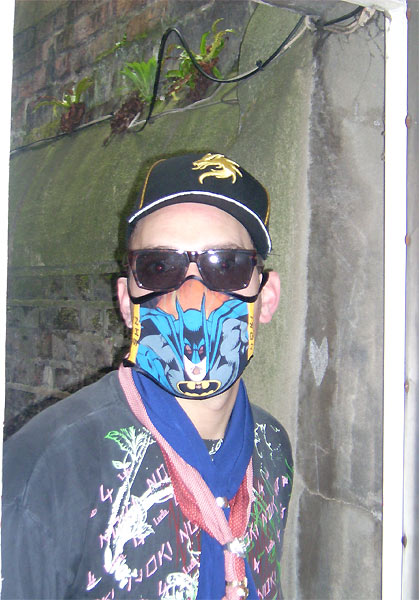 NOKI 2008


fashionoffice.org has asked the Internet Fashionistas to name their trend leading designers: NOKI is one of the favorite designers for 2008 (Styletrends 2008 fashionoffice.org/survey)


In Brighton based artist/designer NOKI is famous for his anonymity. The masks are one of his signature designs.
"Brands are seen as are IKONS and NOKI subverts this IKON to a new level of thinking, for a generation that demands more than mass produced Homogenisation pumped at them generation after generation."
Playfully aggressive the Noki rhetoric is much owed to the writer and founder of Adbusters Kalle Lasn, whom NOKI cites as a major influence on his world view and work.





The noki_infomercial video below was made for the "You Wear it Well' fashion film festival by Zeroh with fashion artist Noki gives you an insight into the Noki philosophy with spoken word poetry>


By rearranging messages of icons (read NOKI the other way round it becomes IKON) fashion communicates a new content. Street Couture on traditional catwalk: NOKI fall/winter 2008 collection youtube.com/watch?v=Qma7LLcGlMU&feature=related


Noki Timeline
1998- Pineal Eye Gallery Shop exhibit 'Ikonic Focus'
1999- Levi Cinch Store – Live customizing exhibition called 'Tease'
2000- Dazed & Confused Gallery 'The Curiosity of Noki'
2001- Artomatic Gallery 'A bit of Mickey Mouse'
2001- Levi B-Fly shop, Milan 'A Noki Crucifixion of Fashion'
2001- Dragon Bar Gallery, 'NHS – Noki Head Space'
2001- Kokontozai Shop Opening party, Paris
2001- Central St Martin's College of Fashion – 1st year branding project
2002- February London Fashion Week, Noki Show, brick lane music hall
2002- September, Sleazenation – Live Exhibition
2002- September, Kokon to zai – Fila cancer research exhibit
2002- September, Addidas/Noki exhibition in Size? Store
2002- Noki Knickers Expose in conjunction with Trace Magazine
2002- Noki and Magpie COOP collaborate to create 'The Nest', working studio
2003- September London Fashion Week, Modern Art Gallery – Mask Event
2003- 3 Noki Art pieces commissioned by the V&A for the "BRAND YOU"
exhibition.
2004- Showstudio.com and W magazine main fashion shoot by Nick Night
2004- September London Fashion Week, 'Consume This' event at the V&A
2005- July exhibition of 20 limited edition screen prints.
2005- "WAR DE ROBE" Exhibition in Brighton
2007- Shoes and bags for Luella Autumn Winter 2007 New York Fashion Week.
2007- Framed art work and customised furniture for the New Luella Shop, London
2007- Kick Hi-Kickers collaboration project launching Spring Summer 2008.
2007- Launch of the NHS-Noki House of Sustainability, at Fashion East London.
2008- Second collection A/W 08 at Fashion East London.
2008- Opening of NOKI (NHS) rear space LMB store.

NokiZine at novamatic.com