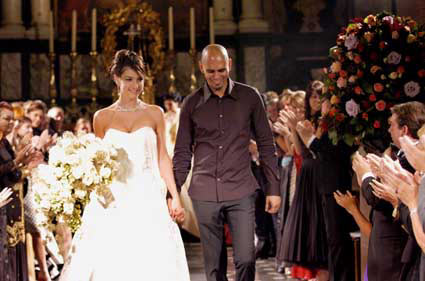 STEPHAN BADAL 2004
Couturier
Stephan Badal, designer from fashion metropolis Antwerp, creates fashion for the new woman, who is wife, mother, friend and carrier hunter
Stephan Badal, aged 35, completed his education at the department "Couture" of the Charles Montaigne Academy for fashion in Amsterdam. In order to perfect his skills in making patterns and the execution of his creations, he had a supplementary education at the Bob Molenaar Fashion school in Amsterdam. After his study, he worked for 3 years as head designer in various fashion houses in the Netherlands. In 1996 he created his first own collection, which he showed in the most classy dutch golfclubs in the Netherlands. In this way, he created a clientele what made it possible to give a first really big fashion show in the monumental ´´Magna Plaza´´ in Amsterdam in the summer of 1999. This show resulted in 46 publications in the most important fashion magazines, news papers en business magazines. They wrote ´´The Netherlands are ready for Mr. Badal´´ and called him and his creations spectacular, feminine, classy and with an eye for detail.
This break-trough had as a result that the big sponsors like Moët & Chandon and Jaguar Netherlands wanted to be linked with him. Jaguar took him and his collection for their ´´ Passion for Fashion´´ program. In the years that followed (2000-2003), 4 fashion shows were organized in combination with the presentation of the newest cars, and this every time on a special location in the Netherlands.
Moët & Chandon, that belongs to the LVMH-group (louis Vuitton, Moët Hennessy), one of the biggest concerns of the luxury products in the world, invited Stephan Badal in the private castle of the Moët family in Epernay (france), the ´´Château de Saran´´, to stay there for a weekend and to make a foto-shoot in the winecellars and vignards. In the summer of 2003, he was given the opportunity to make two pink evening dresses to support the campaign of the Champagne ´´Brut Imperiale Rose´´.
On September 5th 2002 Stephan Badal opened his own couture house. Since he has built up an international clientele, he decided to do it on a central location in Europe, namely Antwerpen, the new fashion metropolis. Here, he works and receives his clients in one of the nicest historical Louis XV manor-houses of the city.