13 September 2021

rebekka ruétz 'reALTERation' Spring/Summer 2022 pays homage to the beauty of the nature in the valley Zillertal in Tirol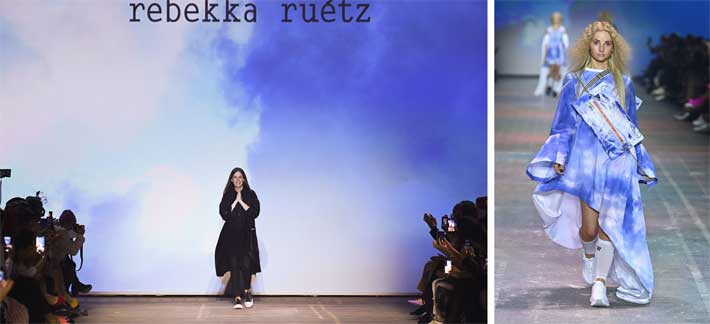 The Tyrolean designer Rebekka Ruetz (born 1984, studied fashion at AMD - Akademie Mode & Design in Munich, eponymous label rebekka ruétz founded 2009 in Innsbruck) continued with the new Spring/Summer 2022 collection, which was presented on 8 September at Mercedes-Benz Fashion Week Berlin, the series of Zillertal inspired designs. The third edition of reflections upon the nature of the valley carries after 'placID' and 'reSET' the name 'reALTERation'. For the development (such as couture from used tourism banners article) and presentation of the collections of the series, the designer has teamed up again with Zillertal Tourism.

Images, from left: Designer Rebekka Ruetz comes out to greet the audience on the runway during the rebekka ruétz 'reALTERation' Spring/Summer 2022 show at the Mercedes-Benz Fashion Week at Kraftwerk Mitte on 8 September 2021 in Berlin, Germany. Right: Model Anna Hiltrup walks the runway wearing an A-line dress with asymmetric hemline and long wide sleeves. The dress is made of a fabric with photorealistic print of the blue sky with clouds. The model wears a crossbody bag with visuals reminiscent of the mountainous region of Tirol with rocks, snow and blue sky. At the bag on view, the writing 'Innsbruck' (capital of the Austrian Federal State Tirol and base of the brand rebekka ruétz). The shoes are Skechers from the Max Cushioning™ Collection with lightweight, responsive Ultra Go™ (5 cm) sole. The footwear brand collaborates already for the fifth time with rebekka ruétz. The Skechers socks appeared in a new interpretation by rebekka ruétz. Photos by Stefan Knauer/Getty Images for MBFW; © 2021 Getty Images.

Before the SS2022 runway presentation (video) started, the nature inspired collection was introduced with scenes from the 'reALTERation' fashion film.