Momo for Y-3
fall 2009

Mapping a city with apparel, shoes, and art
In September 2009, adidas announced that Y-3 will present a customized collection of 13 pieces apparel, shoes, together with artwork created by the Brooklyn street artist Momo during the months September and October.
In 2002, adidas and Yohji Yamamoto have launched Y-3 with the spring/summer 2003 collection for men and women; Y stands for Yohji, 3 for the three stripes of adidias. It was born out of the desire to create elegant and chic sportswear. The label fusions consequently sport and style with a touch of contemporary art. By visiting www.Y-3.com the page loads a map showing women and men in the streets. The map's mouse over effects zooms into different FW 9/10 looks presented on virtual models in 360° shootings.
The work of Momo (born in San Francisco, living in New York) is in this context a perfect extension of Y-3 into the art world. Momo is known for his maps and minimalistic street art. For Y-3 he has used silkscreens, stencils, and paint, to put his stamp with bright colors on everything from women's blazers to men's trousers.
"... energy ... music ... art ... ethnic diversity ...movements in New York that constantly inspire me and reflect my eye on Y-3. I wanted the collection to be very street, just like all what I love about New York ...MOMO was my perfect companion in bringing my vision to life." Yohji Yamamoto, March 2009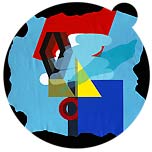 fig.: Skin painting by Momo, fall 2009.

Momo designed a limited edition Hayworth High sneakers. Using his signature vivid, geometric shapes, he painted 3 unique designs on 3 cowhides. During the production process, the hides will be cut to form randomized patterns, resulting in 3 final products that even Momo can'tpredict. "A lot of my processes involve a shuffle. I like that as a game, as a means to create surprises for myself," says Momo. Only up to 120 pairs of each design will be produced www.Y-3.com.
Video www.youtube.com/watch?v=X9adBLJvMIc: Momo Tags The Width of Manhattan, 2006. Music by Gabriel Yared from "Dangerous Moves" (1984) a French film about chess. The 'American Journey' is made by the artist himself www.momoshowpalace.com. (In street art 'tag' means a signature consisting of a writer's pseudonym.)

On the artist's press kit page, the intro to the story 'An American Journey' explains the one-liner tag: "More than a reinvention of New York's most famous export, the one-liner tag also serves as a path leading pedestrians astray through landmark neighborhoods and city parks. Its 2006 and respect for Old School is everywhere. Technology leads street art again! Using a map, kids are able to plot things too large for the eyes..." www.momoshowpalace.com/+PressKit.htm

You will find an interesting interview with Momo on Design Assembly. James Greenfield asks Momo if today's internet and culture have diminished the differences between cities such as London, Berlin and New York. Momo answered: "The difference is huge. Its as much as the culture and laws everywhere are different, then weather and city substrates. Sure, the internet has sort of made this phenomenon what it is, but I have no comprehension of what they're doing in LA, its looks horrible. I think I'd need to own a car and spend hours in traffic to understand." Read the full interview www.designassembly.org/2009/04/29/momo/.
Y-3's art collaborations have tradition. Read more about the special edition in FW8/9. Three stars created one shoe: Peter Hook, bass player of Joy Division/New Order; Ben Kelly - the architect responsible for the interiors of the legendary Hacienda nightclub; and Peter Saville, Factory Record's original graphic designer who was also responsible for Yohji Yamamoto's advertising from 1986 to 1992 fashionoffice.org/collections/2007/y3adidas7-2007.htm.

Source: Original article with images and video on http://www.fashionoffice.org/culture/2009/adidas9-2009.htm.


more fashion.at/mobile>
News from
May - July 2009
April - May 2009
Jan - March 2009
October - December 2008