ANNEMARIE BÖRLIND
summer 2009


A natural cosmetic pioneer who fled from East Germany
In 1958 Annemarie Lindner's cosmetic business was so successful that the East German government wanted to nationalize it. The German cosmetic pioneer had to flee with her family to the West. In 1959 she has started with the label Annemarie Börlind in West Germany again. On occasion of the brand's 50th anniversary, the founder Annemarie Lindner speaks about the history of the brand, her inspirations, the approach to beauty and health, and what ecological awareness has to do with 'Celebrity Red' lip color, dead lice and eatable ingredients.

Talking with Annemarie Lindner
Mrs. Annemarie Lindner, the brand name Annemarie Börlind has changed on your international website www.borlind.com into Annemarie Borlind. Times are changing but although fashion trends and new technologies are influencing the cosmetic business strongly, you have never given up the idea of natural skin care products since you have founded the first salon in East Germany in 1947. In your biography is written that an old herbal book was the inspiring source for starting the own line of natural cosmetics. The story evokes the impression as if you are working with a knowledge that is attributed to witch craft.
Question: Where have you got the book from and when was it written?
Annemarie Lindner: "The old herbal book, that my husband, Walter, gave to me for Christmas after I'd completed training as a herbal cosmetologist at the age of 27, lay the foundations for our natural cosmetics. The healing effect of herbs fascinated me then, as it still does today. As a young girl, I suffered a lot from acne and so tried out a large number of products, often without success. That herbal book dates back to the last third of the 19th century."
Question: Can you remember which formula has inspired you in 1947 most?
Annemarie Lindner: "My old herbal book provides a wonderful overview of the effects of the herbs and is still very current today, just as it was then."
The descriptions of the flowers 'Gottesauge' (free translated from German into English 'God's Eye') and 'Schöngesicht' (free transl. 'Beautiful Face') have inspired Annemarie Lindner most.
Question: Are you still searching after old herbal knowledge? If yes: where do you find it?
Annemarie Lindner: "Yes, we're always on the international lookout for new plants, herbs and formulas so that we can continue to produce highly effective care products based on nature. At Annemarie Börlind, using natural, superior-quality raw materials, most of them from organic cultivation, comes first. State-of-the-art manufacturing methods in line with the latest technological know-how allow us to guarantee careful processing of the plants and herbs – and this can be felt and seen. In the fall of 2009, we're launching a new anti-ageing product called NatuRepair Skin Renewal Fluid that slows down skin ageing by means of the innovative BioRecell Complex."
Question: Do you think that working with herbal knowledge is rather a female than a male approach to health and beauty?
Annemarie Lindner: "I think that, in natural cosmetics, what matters is a holistic view of things and a spiritual sensitivity. I had the idea of developing nature-based cosmetics to underline feminine beauty. Over the years, this became my philosophy – but I don't think that it has anything to do with gender."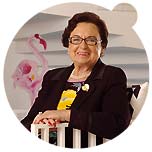 In 1958 your business was so successful that the East German government wanted to nationalize it. You had to flee with your family to the West. In 1959 you have started the company 'Annemarie Lindner' under the label Annemarie Börlind in West Germany again. In the jubilee edition of the company's own magazine 'Natürlich Frau' (free translated 'Natural Woman') on occasion of 50 years Annemarie Börlind, the German chancellor Dr. Angela Merkel congratulates for innovative strength, endurance and foresight.
Question: Would you say that the pressure from the market for more effective natural skin care has enhanced the ecological awareness; for example that the knowing grows with the necessities of certified organic cultivation for high-qualitative ingredients of natural cosmetic products or the research in colors without the use of dead animals?
Annemarie Lindner: "Yes, I do. I wouldn't want to call it "pressure from the market" though, but rather a growing awareness among the population. Imagine that, today, more than a third of the population of the western countries regard themselves as "LOHAS". LOHAS – "Lifestyles of Health and Sustainability" – are consumers whose purchasing behavior is essentially determined by criteria such as naturalness, how healthy products are and an ethical and ecological sense of responsibility. After all, it's no wonder that people are starting to think differently after the dramatic changes in the climate and the scarcity of certain raw materials have become clearly noticeable."
Question: Have there been any ˜historical" years in natural beauty?
Annemarie Lindner: "Yes, I enjoy thinking back to two great events that took place in recent years: in September 2005, shortly before my 85th birthday, I was awarded the Natural Legacy Award at the Goethe Institute in New York as a pioneer of natural cosmetics. In 2009, I also received the perfumery industry's Beautyworld Cup at the Beautyworld trade fair in Frankfurt for my life's work and my services to the cosmetics sector. This year, we're celebrating our company's 50th anniversary and, although I've been in retirement since 1985, my heart still beats every single day for the continuing business development of Annemarie Börlind."
Question: How can you substitute ingredients from dead animals such as collagen, placenta or elastin with natural products?
Annemarie Lindner: "The research and development team succeeds in using extracts or substances that have a similar effect on the skin. Our products are only conserved with natural preservatives, without synthetic preservatives, which can disrupt the natural skin functions. For ethical reasons we do not use fresh cell extracts, collagen, elastin, placenta etc., which are all obtained from dead animals. Equally, Annemarie Börlind has always refused to carry out animal tests."
Question: Does natural skin care have similar effects?
Annemarie Lindner: "Yes. All our products are tested for their skin-compatibility in dermatological clinics. The high quality of the natural ingredients used and the dermatological tests ensure excellent efficacy and optimal skin-compatibility."
Question: Please name some of the natural products which are used instead of ethical critical ingredients.
Annemarie Lindner: "Our products are produced in harmony with nature, using up to 100% natural substances, which gently and effectively support and/or improve the functions of the skin. For example: we use botanical ingredients preferably from controlled organic cultivation like plant isoflavones, phytosterols, plant squalane, hyaluronic acid, macadamia oil and biotechnological ceramides."
Question: One of your lip colors is 'Celebrity Red'. Normally this red is made of dead lice. How does Annemarie Börlind produce this intensive red?
Annemarie Lindner: "We do not deploy potentially unsafe ingredients, such as silicones, parabens, paraffins and other petroleum derivatives, or carmine, the red coloring obtained from dead scale insects, in our lipsticks either. To give our lipsticks color brilliance, we use eatable colorings only."

Find out more about Annemarie Börlind on www.borlind.com.

Source: Original article with images and video on http://www.beautyme.com/cosmetics/2009/annemarieborlind8-2009.htm.


more fashion.at/mobile>
News from
May - July 2009
April - May 2009
Jan - March 2009
October - December 2008