Alex & Cocco
'Particle Parkour' series
summer 2009

Athletic movements in street art sceneries
In July 2009, the photographer Alexander James and producer Elizabeth Cocco presented new images from their 'Particle Parkour' series on the website of Distil Ennui. The works show athletes moving powerful through an urban scenery of graffiti and street art. The Body Art & Graffiti comes from Mark Goss.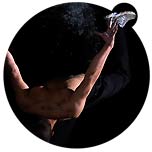 fig.: 'Particle Parkour' series by Alex & Cocco. Body Art & Graffiti by Mark Goss; Sticky from Devious Fiend Model. Copyright © 2009 Alex & Cocco.
Question: Is Distil Ennui a work title, a company name?
Elizabeth Cocco: "No Distil Ennui is the name of our website; our company name is Alex & Cocco. Distil Ennui is a name we came up with to house our personal works which are in themselves very different, and we wanted the name to convey that. Distil Ennui is a collection of works that attempt to present the beguiling beauty of our everyday confinements, re-proposing the ordinary, displaced and the overlooked."

Question: Why have you captured the 'flying men'?

Elizabeth Cocco: "This series is part of a personal fine art series on a long project on Parkour or Free Running capturing the motion of the human body within the architecture of the urban environment - we have been shooting this style of work for over six years now."
Question: What do you want to express? That freedom comes from personal strength?

Elizabeth Cocco: "Our urban environments can be very controlled places where movement is very restricted - we want to break down these barriers. This series is about far more than bricks and concrete. Architecture comes alive when used as an urban playground, offering a never-ending set of challenging surfaces and spaces to those willing to explore them."

Question: Where do the water drops come from? Are they retouched?

Elizabeth Cocco: "No retouching is ever present in our personal works this series was shot in Royal Dock, London where we built an underwater stage for the athletes to work on allowing them to stand in a large open water area but only in 1 inch of water."

Question: Please explain the 'In Camera' technique of your work.

Elizabeth Cocco: "All of our personal work is presented as shot with no cropping, or post production of any kind. So few photographer have a strong understanding of the language of film - with work being over edited....We really love the craft and are very proud of this aspect of our personal work. Even our digital work is privy to the same 'in-camera' approach. We were early movers to high end digital capture for our advertising briefs and post production is of course a regular part of the workflow. Perhaps this approach to our personal work is a kind of back flip reaction to our commercial work.
Find the 'Particle Parkour' series on www.distilennui.com.

Source: Original article with image on http://www.fashionoffice.org/foto/2009/distilennui7-2009.htm.


more fashion.at/mobile>
News from
May - July 2009
April - May 2009
Jan - March 2009
October - December 2008