FUCHS & FJONKA
fall/winter 2009/10


Fashion for two and four legs
In August 2009, the Berlin fashion designer and veterinarian Michaela Irmscher has opened the new online shop 'fuchs & fjonka' www.fuchsundfjonka.de for the ones with two and four legs. She collects artful products from Scottish designer Donna Wilson who creates knit toys for pets or William Wegman's collection made of bacterical free fabrics. The products are for real dog lovers who are interested in the being dog and not the accessories dog. Michaela Irmscher is selecting collections that are Europe wide exclusively available in her online shop.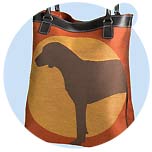 fig.: Tote bag by William Wegman made of Crypton fabrics.

US designer, photographer, painter, video artist and dog lover William Wegman (born 1943 in Massachusetts, living in New York and Maine) has created pillows, blankets, and beds for four legs, and cosmetic and tote bags for two legs. The pieces are made of bacterical resistant Crypton fabrics www.cryptonfabric.com. These fabrics are free from odor.
On William Wegman's website you can read about the beginning of the artist's work with dogs. His first dog that became worldwide renown for modeling in front of the camera was 'Man Ray' www.wegmanworld.com.

Video on http://www.youtube.com/watch?v=v92g8K1kCq8: Report by the Manahattan newspaper amNewYork, amny.com, 2006. Interview with the artist and Weimaraner photographer William Wegman in his studio.

Source: Original article with images and video on http://www.fashionoffice.org/design/2009/fjonka9-2009.htm.


more fashion.at/mobile>
News from
May - July 2009
April - May 2009
Jan - March 2009
October - December 2008