Givenchy
summer 2009


Men's scent for nomads in a world of multimedia
Released in summer 2008, the men's fragrance by Givenchy 'Play' is still in July 2009 a trendy item. It is designed for the male nomads whose motto of living seems to be 'Let's get interactive globally through universal symbols'.
Givenchy describes the world of these men with the words: "In our high-tech nomadic era of multimedia and modernity, experiences can be shared anywhere, anytime".
Probably this scent will not go out of fashion so fast, because it defines not only male lifestyle with accompanying ad photography, role model, and flacon design; it lies in the olfactory conception of the woody scent itself which focuses on classic elegance. But when 'Play' goes out of 'fashion', it will remain as an icon for our era because of its packaging.
For sculptor and designer Serge Mansau timelessness was is a central theme. He integrated universal symbols on the flacon: the codes are taken from the world of music; they are globally known for entertainment, movement and rhythm.
The bottle interface can be described as 'high-tech simplicity' similar to an iPod. The look is inspired by the lines of mobile multimedia devices that became iconic for our time.
The 'interactivity' is expressed by the name of the product 'Play'. In a double-meaning, the 'Play' button stands for the interactivity of a fragrance and the emotions which are evoked by scents.
"It's like music, which is not just a succession of sounds or the result of a particular choice of instruments, but a composition by an artist. By selecting and assembling notes, accords, rhythms and harmonies, the composer makes his or her score into a one-of-a-kind, original creation."
The woody fragrance 'Play' comes in two different interpretations (Eau de Toilette with bergamot note and Eau de Toilette Intense with tonka bean instead), created by Emilie Coppermann and Lucas Sieuzac under the direction of Françoise Donche, the 'Brand Nose' of Givenchy.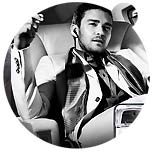 fig.: The ad 'Play' shows US singer-songwriter, producer and actor Justin Timberlake (born 1981) who stands for a new dandyism: sexy masculinity and trendy elegance are the keywords for him. In 2005, Justin Timberlake has launched together with his friend Trace Ayala the clothing label William Rast. In September 2008 William Rast was shown for the first time at the New York Fashion Week.
The campaign looks as if it is taken with a few snapshots, captured by photographer Tom Munro during Timberlake's daily life. He is shown in casual elegant suits in a private jet or a recording studio; surrounded by multimedia equipment, listening to music. Tom Munro portraits celebrities and is shooting fashion and beauty editorials for the American and Italian editions of Vogue. He works regularly with Justin Timberlake.


Givenchy presents the fragrance on www.playgivenchy.com; available at www.marionnaud.com.


Source: Original article with images and video on http://www.beautyme.com/fragrance/2009/givenchy7-2009.htm.


more fashion.at/mobile>
News from
May - July 2009
April - May 2009
Jan - March 2009
October - December 2008