GREEN COUNTRY STYLE
by Alpenflüstern, Kettler, Luis Trenker, Lola Paltinger, George Gina & Lucy
fall 2009


The outfit for one of the world's largest public parties
Each year in fall, people mainly from the alpine regions of Austria, Germany, Switzerland and South Tyrol join one of the worldwide largest public parties running in September/October in Munich (Germany) on the so called 'Wiesn' (greenfield). In 2009, the 'Oktoberfest' goes from 19 September until 4 October. It is such a successful event that it is organized in many other cities of the world.
Traditionally, the party serves culinary specialities like the white sausage called 'Weisswurst' with 'Brezel' and beer by the liter. The last mentioned tradition exhilarates the people of the Alps the whole year through; not what you think - they are joking about the tradition of drinking beer in such units.
The visitors of the Oktoberfest are wearing the original clothing 'Tracht' of the Alps such as dirndl, jewellery with pendants like Edelweiss or hearts, knitwear decorated with field flowers, lederhosen, etc.
On occasion of this public-mega-party, several brands and shops have stocked some pieces, selected especially for the 'green'.
How to choose the wardrobe for the 'Wiesn'
First of all, plan how you can reach the 'Wiesn' most comfortable; then select your wardrobe in accordance to.
If you are already in the city, the bicycle is the most favored vehicle. Choose a light, sportive one enabled for cross-country driving like the Kettler Fly SX for women. The South Tyrolean label Luis Trenker suggests for the season the t-shirt 'Ich liebe Dich!' which means translated 'I love you!'. The shirt looks good in combination with the bike and fits with the traditional heart and the German language slogan perfectly onto the 'Wiesn'. Don't forget a jacket for the evening such as the one with embroidered field flowers on knitwear by designer Lola Paltinger who is the hot trend tip of the shopping channel 'HSE24' for the Oktoberfest 2009. The bag ' Wiesntasche' by George Gina & Lucy shows many elements such as engraved buttons, heart, patchwork, embroidered bands, roses and other flowers in combination with geometrical pattern. It can be used for riding on the bike thanks to the long strap. The Bavarian label 'Alpenflüstern' is a specialist for Wiesn-jewellery. For men they are presenting the 'Macho Macho' collection, women can select between the fashionable 'Schickeria' which means as much as 'The beautiful people' and the more elegant 'Perlensymphonie' with pieces such as 'Antonia' with a pendant in the form of a heart, showing a scenery of the forest with deer and trees.
Combine the pieces with comfortable jeans and lace-shoes!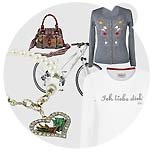 fig.: Pearl chain with heart pendant by Alpenflüstern www.alpenfluestern.de, bag by George Gina & Lucy www.george-gina-lucy.com, knitwear jacket by Lola Paltinger www.lolapaltinger.com, white 'Ich liebe dich!' t-shirt by Luis Trenker www.luistrenker.com, Kettler Fly SX for women www.kettler-bike.de

Source: Original article with images on http://www.fashionoffice.org/collections/2009/greencountrystyle8-2009.htm.


more fashion.at/mobile>
News from
May - July 2009
April - May 2009
Jan - March 2009
October - December 2008