GUERLAIN
fall/winter 2009


Russian culture on cheeks, lips and eyes
The inspiring theme for the new Guerlain 'Collection Coleurs' fall/winter 2009 is 'The Beautiful Muscovite'.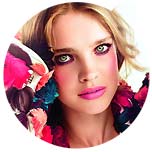 fig.: Once again, Guerlain Creative Director Olivier Echaudemaison gets his inspirations from the Russian born model Natalia Vodianova; Guerlain fall/Winter 2009.
The 4 main characters of the 'Russian color world' for face styling in fall 2009 are:
fresh looking teint
strong cheeks
purple colored eyes
rosé-red lips
The colors are chosen for providing good temper against the short days with grey skies and less sun.
Guerlain has named the new products for eyes and lips 'Volga Princess' and the blush for strong cheeks 'Russian Doll'.

Olivier Echaudemaison's inspirations
For the products of the 'Volga Princess' series, the make up artist transferred the impression of the sundown at the Volga to the eyes and lips. The inspiring story for Olivier Echaudemaison's rosé-reds is as follows; think of a garden-party at the riverside, reflected by the water of the Volga. A woman captures the artists visionary eyes; she takes a golden-black box out of her black velour bag. The bag is artificially decorated with the characteristic ornaments of the Slavic culture. The woman opens the box and begins to refresh her make up with rosé-red.
Let's visit another scenery of Olivier Echaudemaison's day dream to find out where the shimmering purple colors for the second palette for the Volga Princess come from: a palace in St. Petersburg, the silk of a gown rustles, shimmering velvet, glitzy pearls and embroideries. The Slavic princesses are wearing jewellery in the same colors like the eyes and lips are made up: light orange, rosé, aubergine.
'Russian Doll' is the name for the liquid blush inspired by the effect of a fresh breeze over the steppe on woman's skin. Think of a travel to the countryside of Russia: the soft breezes and fresh air charm a light rosé to the cheeks.
The new look comes into the shops in August 2009 www.guerlain.com.

Watch the video youtube.com/watch?v=X4ChrUwS6g8: How to make the teint? Guerlain creative director Olivier Echaudemaison shows how to make the teint for a journalist of the magazine 'Votre Beauté' youtube.com/user/votrebeautemag. This is the first of three videos; the second one is about making the eyes, the third about the lips youtube.com/watch?v=bAOlkFF511Q.
Source: Original article with images and video on http://www.beautyme.com/cosmetics/2009/guerlain8-2009.htm.


more fashion.at/mobile>
News from
May - July 2009
April - May 2009
Jan - March 2009
October - December 2008