HUMANIC
fall/winter 2009/10
Vienna Insight by
publisher Karin Sawetz

We all know that walking with high-heels is really a challenge. But ... only a man without a sense for the erotic of high-heels will never experience what's about.
It's all about the 'swish'.
Vienna is an ideal place to wear high-heels! The city is known for its special policy to make sidewalks secure: most of them are prepared for challenged people; they have flattened crossings and no holes.
"Unbelievable, but this high-heel is almost comfortable."
On 30 June 2009, the Austrian headquartered European shoes, bags and accessories store chain Humanic presented in front of fashion journalists the trend collections fall/winter 2009/10 in Vienna. Liane Seitz alias 'Shoemanic', editor of Humanic's fashion-blog blog.shoemanic.com guided through the shoe-'exhibition'. Her interview partners had been Heidrun Pircher and Josef Obermoser, both trend experts for Humanic.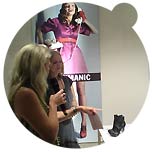 fig.: Blog-'Shoemanic' editor Liane Seitz and Humanic's trend expert Heidrun Pircher at the presentation of fall/winter 2009/10 on 30 June 2009 in Vienna.
Together with her colleague Josef Obermoser, responsible for lifestyle/sport's shoes, Heidrun Pircher introduced the new trends: mostly high-heels for day and evening wear, and colorful sportive shoes for leisure.
Women's collections for day and evening
Lace-up, Shooties, Overknees, and Matryoshka are the titles of the trend collections. Lace-up represents the 40ies chic such as laced boots for tailored costumes. Overknees are interpreted in Humanic's selection as amazons-style for ladies who dare to be dominant.
The new color in the collections is 'cognac'. You can find it in Lace-up, Overknees and especially in Matryoshka which is inspired by Russian costumes and comes in warm colors red, brown and the new one, cognac.
"Unbelievable, but this high-heel is almost comfortable," states Heidrun Pircher in front of the trend collection 'Shooties'. The word-creation means half shoe, half booty and seems to be the most comfortable collection for next winter as it can be worn to trousers as well as long and short dresses and skirts. The Shooties don't have to fit necessarily exactly in color and style; so they are from many aspects comfortable shoes.



Lifestyle and sport's collection
The collections of Lacoste, Nike, Asics... are very recommended if your high-heels training program has no effect on you. Humanic trend expert Josef Obermoser has presented the sportive lifestyle collections under the titles 'Old Skool' (retro-look inspired by basketball), 'Rockabilly' (for skater-rebels in 60ies style), and 'Street' (elegant sneakers for leggings, shirt and blazer).
Humanic has opened an international online shop. You will find around one thousand shoes and accessories. A special feature awaits you: women with very small or very big feet will find their sizes online www.shoemanic.com.



Karin Sawetz is journalist, media researcher and fashion scientist (Mag. Dr. phil.). > sawetz.com

Source: Original article with images and video on http://www.fashionoffice.org/collections/2009/humanic7-2009.htm.


more fashion.at/mobile>
News from
May - July 2009
April - May 2009
Jan - March 2009
October - December 2008