HYPHEN
summer 2009


Sun-protection wear can save costs
Sun-protection can be an expensive luxury. To reduce costs, cover the body with special and proven textiles; for the other parts use sun cream!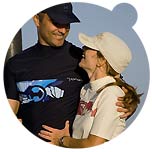 Hpyhen offers UVA- and UVB- sun-protection wear for women, men, and kids. The company was founded in 2001 in Germany with a collection for kids. Today, beach and sports wear alongside to clothing for everyday are available at the extensive online shop. Accompanied are the collections by matching accessories like hats, caps and shoes.
The pieces are made of woven, non-elastic materials or elastic knits with permanent sun-protection; even if you are sporting in water. They are resistant against chlorine and saltwater.
Many athletes forget to protect their skin, especially runners; a white t-shirt for example protects only minimal (UPF - Ultraviolet Protection Factor 10); a wet cotton shirt has UPF 4. Hyphen, wet or dry, protects with UPF 80 www.my-hyphen.com.

Source: Original article with image on http://www.fashionoffice.org/collections/2009/hyphen7-2009.htm.


more fashion.at/mobile>
News from
May - July 2009
April - May 2009
Jan - March 2009
October - December 2008