INDRA COUTURE
summer 2009
Vienna Insight by Karin Sawetz, July 2009

When the sun is burning!
Summer in the city of Vienna is most beautiful outside of the city.

When the sun is burning the air, it's the only time through the year that the Viennese confess that the Wörthersee in Carinthia or the festival in Salzburg are nice places to go in Austria.


Fashion inspired by the erotic of Sacher-Masoch

On 28 July 2009, the Austrian couturier Birgit Indra invited to a fashion show at the Relais & Châteaux Hanner, a restaurant and meetingpoint for the Viennese society not far from the city in Mayerling. In 15 minutes you are in a green, hilly country where temperatures are still high, but cooled down with enjoyable fresh air.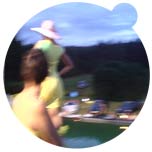 fig.: Yellow summer dress by 'Indra Couture' on the catwalk on 28 July 2009 at Relais & Châteaux Hanner in Lower-Austria. The fashion show was divided into 4 parts; while the sun down, the show raises up with easy-going summer dresses in the bright colors yellow, orange, and red.
Traditionally for the cultural region, the high point of the fashion show near the former working place of Sigmund Freud, in a country where Leopold Ritter von Sacher-Masoch has written 'Venus in Furs', had a strong erotic, very dominant note. Birgit Indra (born 1966) has entitled the 4th part of her show 'Indra for Pleasure'. She has sculptured the pieces in red and black nappa leather close to the models' bodies. Well-equipped with whips and masks, the 'Pleasure'-pieces promenaded through the restaurant and garden to balance 10/15 meters on a small board of ca. 20 centimetres width at the edge of the swimming pool - with high heels!
Birgit Indra's intention for the 'Pleasure'-collection was to encourage the wearer for gameness erotic. Some of her models provoke more than a shy view.


Birgit Indra has studied at the fashion school Herbststraße Vienna, worked at the Haute Couture Salon Adlmüller, and designed for the Austrian label Magda Rose (Jones) before she opened in 1995 her own salon 'Indra Couture'. In 2008 she received the Haute Couture Award by Jones; 2009, Indra was one of the finalists of the Ringstrassen Galerien Designer Award in Vienna.

Since 2008 Birgit Indra works together with Irmie Schüch-Schamburek on developing trend guides in fashion, styling, and shopping. On her website you can find out more about her fashion www.indra.co.at.

Source: Original article with images on http://www.fashionoffice.org/design/2009/indra8-2009.htm.


more fashion.at/mobile>
News from
May - July 2009
April - May 2009
Jan - March 2009
October - December 2008