JOHN RICHMOND
fall/winter 2009/10


Stay elegant and keep an eye on your privacy!
In June 2009, punk-rock inspired designer John Richmond presented his first woman's fragrance - coming to stores right in time with the fall/winter wear in August 2009. In the same month of the perfume launch, he has shown his new men's wear collection for spring/summer 2010.
John Richmond's philosophy comes from punk, rock music, and street culture. From these sources he creates couture for men and women under slogans like 'Love and Hate' or 'Destroy Disorder Disorientate'. Annie Lennox, David Bowie or Snoop Dogg has been dressed up already by John Richmond.
In Italy, the label John Richmond is high ranked and grows probably because of the combination of classic, elegant elements and snottily details which come as treasure-like looking accessories; such as the lock on the flacon of the Eau de Parfum.
The fruity-floral scent's very classical flacon surprises for being used by a designer who is known for his punk-rock attitude; but you have to look inside the package with tattoo print twice to find the extraordinary element: there a bracelet waits for the pendant from the bottle. The scent's olfactory philosophy comes from the imagination of a woman who knows how to keep her secrets. It is just as if the designer advices to stay elegant and keep an eye on your privacy!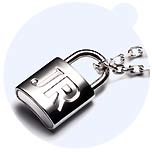 "I wanted a perfume that celebrates the peculiarity of the lock with its bottle, the accessory with the bracelet, the uniqueness of the John Richmond woman in the fragrance, its striking personality.
We jealously guard our most precious and desired possessions with a lock, we keep them private, just for us.
John Richmond is a perfume 'to wear', like the collections, it is something that a woman dedicates, above all, to herself, it exalts her personality and completes how she lives these modern times." John Richmond

The designer is born in Manchester, later moved to London. In 1982 he graduated from the Kingston University. In the same year he launched his first collection under his own name. Since around 12 years John Richmond cooperates with the Italian business man Saverio Moschillo who directs the production at Italian manufacturers and has a network of 25 showrooms worldwide. Saverior Moschillo is vice chairman of the National Chamber of Italian Fashion.
In the same month of his first fragrance launch, John Richmond presented his new men's wear collection spring/summer 2010 influenced by the music of Duran Duran during the Milan Fashion Week.
Source: Original article with images and video on http://www.beautyme.com/fragrance/2009/johnrichmond7-2009.htm.


more fashion.at/mobile>
News from
May - July 2009
April - May 2009
Jan - March 2009
October - December 2008