Jean Paul Gaultier for Levi's
spring/summer 2010


Streetwear re-interpreted by the 'enfant terrible de la couture'
On 25 June 2009, French couturier Jean Paul Gaultier has shown the new Maison Jean Paul Gaultier men's wear collection spring/summer 2010 with re-interpretations of selected iconic denim-pieces like the Levi's 501 and jacket during the Paris Fashion Week.
"Levi's is the American Dream, it's a myth, it is the original jeans. It was a joy to work on my versions of the 501," said Jean Paul Gaultier.
The re-interpretation
The couturier re-interpreted the Levi's streetwear pieces in a 60ies secret-agent style with maritime stripes and punky bondage elements that could be inspired by skydiving. Blue and red, especially red, are signature colors in Jean Paul Gaultier's work.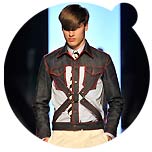 Stage-outfits and film-costumes
Jean Paul Gaultier is known to be the enfant terrible de la couture who has already written fashion, music and film history. In the 90ies, the legendary bra of Madonna's outfit became synonymous for gender policy on the music stage.
For the science fiction movie 'The Fifth Element' directed by Luc Besson (1997), Gaultier has created the legendary costumes such as Milla Jovovich bondage-outfit, the orange rubber piece over the white shirt, or the outfit of the 'Diva' (watch the great scene with Milla Jovovich and the singing 'Diva' on youtube.com/watch?v=n0qy3JHz6X0). Jean Paul Gaultier brought Parisian chic into SciFi!
Gender and beauty rebel
Jean Paul Gaultier was trained at Pierre Cardin, before he made his debut in 1976. He is playing with traditional gender roles and pioneering fashion rebellion by casting unconventional models for his shows, like older men and full-figured women, pierced and heavily tattooed youngsters.
Video: Maison Jean Paul Gaultier's spring/summer 2010 menswear collection presented on 25th June during the Paris Fashion Week. By www.youtube.com/user/ErichBen.
Find an interview about the collection with Jean Paul Gaultier by the French TV channel parismodes.tv on youtube.com/watch?v=bb8CkBxh7P8.
The re-interpreted Levi's jeans and jackets will come into stores in November 2009 www.levis.com.


Source: Original article with image and videos on http://www.confashion.com/ss2010/levis7-2009.htm.


more fashion.at/mobile>
News from
May - July 2009
April - May 2009
Jan - March 2009
October - December 2008