Lingerieplease
summer 2009


About the selection of labels and trend items for online shops and the future of e-commerce
In August 2009, the UK based online retailer Lingerieplease www.lingerieplease.co.uk presented its season's Must Haves like a Wonderbra Multiplunge with straps to be worn in multiple versions with the note "Every fashionista should have one in their draw so they will never be stuck for a bra when trying to wear even the most difficult of items" or Skinkiss Caffeine tights with active ingredients of caffeine that can help to stimulate the circulation in the legs.
Question: Who has founded the online shop 'Lingerieplease' on lingerieplease.co.uk? Since when is it online?
Kirsty Tippett, Marketing Department Lingerieplease: "Lingerieplease.co.uk was founded in 2007. It was born from a sister site called Tightsplease www.tightsplease.co.uk which was set up much longer ago, in 2001."
Question: You are presenting many labels on your site. Are you traditionally an offline retailer and transferred your products to the web? Or have you selected the labels especially for the online shop?
Kirsty Tippett: "Lingerieplease.co.uk has always only ever been an online store. These labels have been selected specifically for the online shop."
Question: Why have you selected these labels?
Kirsty Tippett: "We have selected specific labels that are well known for their exceptional fit and high quality. We believe this to be important when selling lingerie online as the customer knows they can trust the products will fit perfectly without having to try them on. The labels we sell also have a mixture of day to day basics and items that are that little bit more special, this means we can provide a wide selection of styles all in names you know you can trust."
Question: Have you experienced that well-known brand names are selling better?
Kirsty Tippett: "Yes. The reasons for this being that people are attracted to our site by the convenience of buying their favourite brands, that they know they can trust and will fit well, without having to leave their home."
Question: How are you checking if a brand name is well-known in the online target group you are interested in?
Kirsty Tippett: "Prior to the launch of Lingerieplease we surveyed 100 000 Tightsplease customers to find out what brands they were interested in, using the findings of this survey we selected our brands. We also regularly check sales figures."
Question: You are promoting especially one bra as the 'Must Have' in summer 2009; the Wonderbra Multiplunge that allows straps to be moved into various positions. How are you finding out what Fashionistas prefer?
Kirsty Tippett: "Again we check sales figures once the product is launched. Before we buy into a product we listen to feedback from customers about current products and what they are looking for next, we visit many different blog sites to see what the latest hot topics are, especially fashion and lingerie blogs. We also see what is in the press; magazines are always good to see what is on trend."
Question: The future of e-commerce lies in the hands of new technologies. The 'intelligence' of the web grows and provides the user products he or she is interested in, keyword 'behavioural targeting': it is not only much easier to find products than five years before; the products find you because of your behaviour online. What is your opinion on the 'thinking web'?
Kirsty Tippett: "We have landing pages designed to cater for the search terms that people enter, this means they are directed to us. We are also re-designing the site in October and it will show people products based on their purchase history. As the web develops further and further, so must online retailers."
In mid-August 2009 Lingerieplease runs the summer sale with up to 25% off on many products and supports a charity for the Yorkshire Air Ambulance www.lingerieplease.co.uk.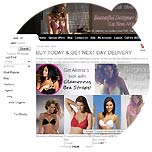 Source: Original article with image on http://www.fashionoffice.org/collections/2009/lingerieplease8-2009.htm.


more fashion.at/mobile>
News from
May - July 2009
April - May 2009
Jan - March 2009
October - December 2008