LUTZ BACHER
'Do you love me?'
4 July – 13 September 2009
Kunstverein München, Munich, Germany


Female art work on media constructions
US artist Lutz Bacher's first comprehensive solo exhibition in Europe with the title 'Do you love me?' will run from 4th July until 13th September 2009 at the Kunstverein München.
The female artist Lutz Bacher (born ca. 1945, living since 1975 in Berkeley, California) presents with 'Do you love me?' the last episode of her exhibition trilogy after 'Spill' (Contemporary Art Museum, St. Louis) and 'My Secret Life' (PS1/MoMA, New York City).
Lutz Bacher's work is about the construction of identity - especially the female one through media in today's society. Therefore she de-constructs the identities by 'interfering' advertising campaigns, she manipulates comic books, interviews, porn magazines or televised rape trials.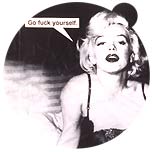 fig.: Jokes (1987 – 1988) Marilyn. B/W Photograph mounted on aluminum 76,2 x 101,6 x 3,5 cm. Courtesy the artist and Taxter & Spengemann, New York.
Lutz Bacher destabilizes the conventions of identity and power until they finally collapse.
'Do you love me?' is especially produced for the Kunstverein München. The exhibition attends to Bacher's humorous picking away of the American Dream, respectively to its media manifestation.
"Here Bacher moves between secrecy and desire, perversion and love, control and self-control; evoking sites of an imminent breakdown of fixed identities, creating fractures that reveal the material as well as the psychological contradictions of an dream cum nightmare that is constantly driven by the question "Do you love me?'" kunstverein-muenchen.de
Source: Original article with image and video on http://www.fashionoffice.org/culture/2009/lutzbacher6-2009.htm.


more fashion.at/mobile>
News from
May - July 2009
April - May 2009
Jan - March 2009
October - December 2008