MONA MOORE
spring/summer 2010


A delicate story about a man and a woman inspires jewellery

In September 2009, the Austrian jewellery designer Mona Moore presented her new spring/summer collection with a story about a man and a woman in a boudoir. The story becomes more delicate when the man reaches for a camera. This is a reason to look closer at the work of the Austrian and her website.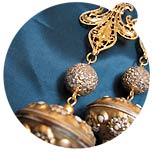 fig.: Earrings Nr. 20 by Mona Moore, 2008
Question: Where have you found the materials for the earrings Nr. 20 and 21?
Mona Moore: I am looking for beads wherever I go. And I used to go to Italy a lot (that's where I found the material for earrings nr.20 and 21). For me it is simply the most beautiful country in the world and apart from the amazing landscape and the sea and the people and the language and the food you also find an enormous amount of art and architecture and design from thousands of years there. Roman, Byzantine, Medieval, Renaissance ...- you name it! - Up to the 21st century.
Question: What was your inspiration for the two designs? They look like late-Renaissance Italian jewellery. Is the impression intended?
Mona Moore: So I guess all of this has inspired me - but in an unconscious way.
I never went: I'm gonna make a "Ravenna collection"!
In fact - I don't really make theme-collections. That would bore me. I just look at my material and make one piece after the other. In different styles usually. And whatever is new since the last season is "the new collection".
I'm a one man band with single customers and one-of-a-kind pieces. Whatever is sold is gone for good (sigh! - goodbye!) - and will be replaced by something different. But I don't throw anything out after 6 months. What a senseless waste it would be! So I'm not really in the fashion industry rhythm and scheme.
Question: When have you started to design jewellery? What was the initial moment?
Mona Moore: I started to make jewelry about 20 years ago when I was looking for a way to make a living with something I enjoy doing and I had always loved beads from childhood on. (Someone once jokingly called my creating: "a feeble attempt to avoid a real job" - that's fine with me too!)
Question: You are presenting your new SS10 collection by telling a story about a man and a woman with a photo camera in a boudoir. A very delicate scenery! What makes jewellery so sexy for you?
Mona Moore: I simply find coloured glass dazzling. And the way light plays with it.
And all the other bits and textures and materials and how they feel on skin... Discovering a new bead-shop can be quite an erotic thrill - like a gorgeous man will fire your imagination and you think of a thousand things you wanna do with him.
And wearing jewelry is such a sensual thing. You will hold your head higher if you wear a pair of long earrings - just like high heels will make you walk straighter - and you feel the weight and the movement which makes you more aware of your body. Constant touch - like little caresses.



Mona Moore has an extensive online shop on her website. The pictures are taken by the designer herself. Mona Moore says: "I affectionately take pictures of every piece. Not only for this website but because they are all that's left when my finery finds a person it can grace."
Read and view the pictures of the spring/summer 2010 story on www.monamoore.at.

Source: Original article with images on http://www.fashionoffice.org/design/2009/monamoore9-2009.htm.


more fashion.at/mobile>
News from
May - July 2009
April - May 2009
Jan - March 2009
October - December 2008