NIKE WOMEN
fall 2009


Break out!
Fashion for sports in front of your door
By the end of July 2009, Nike Women presented the coming fall 2009 collection through a glossy X-large magazine with articles and photo stories under the motto 'Let Yourself Out'.
The reasons for outdoor training are listed already on the first pages:
the nature is an additional challenge which burns your calories faster than doing the same training in the studio
the exposure to natural light (Vitamin D) prevents bone disease or depression (don't forget your sun protection)
fresh air promotes the quality of sleep, enhances mood and boosts energy
a 'green' scenery reduces stress
you are producing less CO2 because you don't need any electrical cardio machines
you can save costs for the gym (tip: hire the personal trainer as a group and split costs)
Under the title 'Urban Playgrounds' Nike summarizes current developments such as guided outdoor trainings organized by gyms for the ones who haven't experienced the new 'playgrounds' yet and that sporting in front of the door is already popular in China, Australia and UK.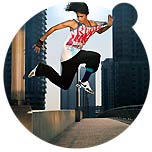 fig.: Nike Women, fall 2009. Dancer Sofia Boutella wears on this picture the Hip-Hop inspired Ollie Tank with all-over graphical print, the Kickflip Pant, and on her feet Air Max Thread footwear.
On the next pages the photo series give an impression how the collection looks on the beach and in the urban environment. The models are sprinter Ashlee Nelson (UK), footballer Anouk Hoogendijk (NL), water skier Cristina de Medrano (ES), Nike master trainer Sonja Moses (UK), and the dancer Sofia Boutella from France - you can see Sofia on the picture of this page. They are wearing pieces from the new collection which is created under the aspect to provide products for any weather condition.
On the last page of the X-large magazine, Sonja Boutella wears a black shirt with the message:
"Just Do It
Don't You Understand?"


Source: Original article with images on http://www.fashionoffice.org/collections/2009/nike7-2009.htm.


more fashion.at/mobile>
News from
May - July 2009
April - May 2009
Jan - March 2009
October - December 2008