Paris Photo 2009
19 - 22 November 2009
Carrousel du Louvre, Paris


All eyes on the Arab and Iranian scene!
The international photo fair 'Paris Photo' chooses each year a special theme: this year it's the Arab and Iranian photography.
Paris Photo was founded in 1997 by Rik Gadella, a Dutch publisher and soon became one of the most important photography fairs worldwide. 1999, the first special focus was 'Fashion and Photography'. Since 2001 the exhibition presents geographical themes like Germany, The Netherlands (2002), Mexico (2003) etc. In 2002, Paris Photo was taken over by Reed Expositions France.
Guest curator Catherine David, Director of Documenta X at Kassel in 1997 and the author of numerous exhibitions and publications on Arab contemporary artistic production, has selected for 'Arab and Iranian Photography' galleries from Tehran, Dubai, Tunis, Marrakesch, Beirut etc. for giving photographic statements from a poorly documented but emerging scene. In one part of the special exhibition, named the 'Project Room', the growing interest for the dynamics of this medium among the artists of the region is documented.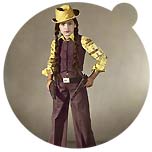 fig.: Van Leo, Sherihan actrice égyptienne, Le Caire, Egypte, 1976. Collection Fondation Arabe pour l'Image - Fondation Arabe pour l'Image.
Additionally, a number of Western galleries will present the work of established Arab and Iranian artists such as Abbas Kiarostami at the London gallery Purdy Hicks, Abbas on Iran at Magnum Gallery, Morocco's Yto Barrada at Polaris, Egypt's Youssef Nabil at Michael Stevenson, etc. to name a few.
The Western visions of the East is another aspect of 'Arab and Iranian Photography' at Paris Photo. You will find the earliest examples of photography from the Orient presented by Baudoin Lebon, Serge Plantureux and Hershkowitz.
Events in Paris during 'Paris Photo':
On the website of Paris Photo, the curators have selected under the title 'What's on during Paris Photo' some events according to the special geographical theme and photography as a whole such as 'Born in the Street – Graffiti' with photographs from the beginning of the new art in the 70ies/80ies at the Fondation Cartier pour l'art contemporain from 7 Jul until 29 Nov 2009 (read the article on www.fashionoffice.org/culture/2009/graffiti7-2009.htm), or 'Iran 1979 – 2009 : Entre l'espoir et le chaos, 30 ans de photographie documentaire Iranienne' from 6 Nov until 20 Dec 2009 at Monnaie de Paris www.monnaiedeparis.fr.

Find the detailed program at www.parisphoto.fr.

Source: Original article with image on http://www.fashionoffice.org/foto/2009/parisphoto8-2009.htm.


more fashion.at/mobile>
News from
May - July 2009
April - May 2009
Jan - March 2009
October - December 2008