Polly&me
"Gup Shup"
9 March - 20 April 2009 (opening on International Women's Day 8th March)
National Art Gallery in Islamabad, Pakistan

18 June - 25 July 2009
part of 'The World of Small Things'
Craft Victoria, Melbourne, Australia www.craftvic.asn.au


Creative chattering women from Chitral, Pakistan
The Australian designer Cath Braid, Central St Martins School trained and already known for the social work she has realized in the last years under her label 'Caravana' (until 2008) in Pakistan, continues her ambitious way to create fashion under a new brand name together with her sister Ange Braid: 'Polly&me' works with over 400 women across eight centers in and around Chitral town in the North West Frontier Province of Pakistan to produce textiles for women's accessories like handbags and textiles. The newest project, "Gup Shup. The Domestic, the Narrative and Cups of Chai." is about daily life in Chitral. "Gup Shup" means as much as "informal chit-chat and gossip". In Melbourne (Australia) the project takes part in the exhibition 'The World of Small Things' with 23 contemporary hand-embroidered textile creations by females from Chitral.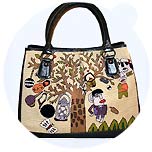 fig.: Handbag "Siblings" by Polly&me, spring/summer 2009.
You can get an insight into the private space of the females in Pakistan
"There has been much written about Pakistan and it precarious geo-political situation. The aim of Gup Shup is to provide a stark contrast to how Pakistan has been represented, particularly over the past two years. It is strongly felt that the everyday lives and traditions of common people are not highlighted - particularly the voices of ordinary women, who very often don't get heard." Polly&me

Kevin Murray, executive Director of Craft Victoria and curator of the exhibition 'The World of Small Things' cites in his article on craftunbound.net (a special publication about the creative strategy of using materials that have little or no value) an un-married young woman:
"During the workshops I used to go home with a certain joy in my heart from my work, I had become workaholic, and was not even aware of the time as we used to be so deeply involved in our work, it was fun, the practicality like practically first doing the task before going into the designing part was just wonderful." publishes Kevin Murray with several images of the artworks from the females from Chitral on www.craftunbound.net/theme/ordinary/pollyme-masterpieces-in-idle-chatter-from-pakistan.


Find out more about Polly&me www.pollyandme.com

More about Cath Braid's work for Caravana (the label was active until 2008):
Caravana SS 2007 fashionoffice.org/design/2007/caravana1-2007.htm
Caravana FW 2006 fashionoffice.org/design/2006/caravana3-2006.htm

Source: Original article with images on http://www.fashionoffice.org/design/2009/pollyme6-2009.htm.


more fashion.at/mobile>
News from
May - July 2009
April - May 2009
Jan - March 2009
October - December 2008