QUELLE
fall/winter 2009/10


Cheap and chic
In July 2009, the international mail-order (founded 1927 in Germany) and online-shop Quelle presented the new trends for fall/winter 2009/10.
The Quelle trend experts have selected pieces from labels such as Tom Taylor, Esprit, Levis, s. Oliver, Wrangler, Adidas, Puma, Nike and from the company's own labels Explorer, b.curved, Umberto Rosetti, Maria Bellesi, and Y.O.U under the aspect of three fashion themes:
Elegant grey, black, brown in straight cuts with bold colored accessories like belts, bags, scarves etc. in fuchsia, lilac, mulberry, petrol and red.
Knitwear - raw for cardigans and pullovers or fine for very female dresses.
Checks in different sizes for mini skirts, trousers, jackets.
Accompanied are the three main trends by coats with decorative collars in folkloristic style and leather coats and jackets in black, brown and cognac.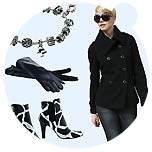 fig.: Quelle fall/winter 2009/10. Bracelet, Leather-Gloves, Ankle Boots, Jacket.
Quelle offers affordable fashion. The online shops are available in 18 countries such as Greece, Italy, Czech, Croatia... www.quelle.com.

Source: Original article with image on http://www.fashionoffice.org/collections/2009/quelle7-2009.htm.


more fashion.at/mobile>
News from
May - July 2009
April - May 2009
Jan - March 2009
October - December 2008