Reyer
summer 2009


Regional boutiques become international
The importance of professional selected, relevant news grows in times of overflowing information. This business is done online by publishers and search engines. But who is selecting the pieces in an online shop?

Fashion retailers are responsible for the easiness to find the matching clothes for a special style in one shop. A new trend in e-commerce can be tracked: today, a regional shop's special taste for a complete look crosses geographical borders such as the Californian (Santa Monica) store Fred Segal that is known for a good hand in picking trend items or the French (Paris) cult-shop Colette.
In July 2009, the Austrian (Hallein/Salzburg) fashion boutique Reyer has stepped out accross the geographical borders and began selling fashion to international customers. Reyer opened the online shop on reyerlooks.com for the ones who are searching for urban, exclusive style. This summer you can find many colorful all-over printed dresses, matching bags in bright colors and comfortable outfits with jeans like the 'Skinny 1968 Easy Love' by Current Elliott.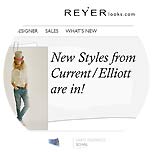 Austrian fashion insiders know the couple Alexandra und Karl Reyer for stocking pieces from international labels and emerging designers for customers with 'educated' fashion taste: the designs are is playful, not too loud, comfortable, and many of the items express a timeless elegance. Alexandra und Karl Reyer are managing the family business in the third generation.
On the website, the alphabetic designer list shows labels from B like Balenciaga, E - Etro, M - Missoni, S - Stella McCartney, to name a few. Additionally you can search in the categories tops, pants, shirts, bags, accessories, beauty etc www.reyerlooks.com.

Source: Original article with image on http://www.fashionoffice.org/collections/2009/reyerlooks8-2009.htm.


more fashion.at/mobile>
News from
May - July 2009
April - May 2009
Jan - March 2009
October - December 2008