SCOTT ELK
inspired designer Dirk Bikkembergs Sport Couture spring/summer 2010


Art and design inspired by football

On 22 June 2009 Dirk Bikkembergs presented his Sport Couture spring/summer 2010 inspired by artworks of the Australian Scott Elk on the catwalk in Milan.
Scott Elk, born in Sydney on 22 February 1981, must be a football fan! His black, red, white, yellow, and white overpainted photographies of a football player are encoded with numbers which could stand for the strategic play from one player to another, or the numbers could signify the score of the play. In the center of his work are photographies showing sports man. The images on the energetic red colored canvas have a vintage look. This 'timeless' quality has the effect that the man gets a heroic touch.
Dirk Bikkembergs has named his new Sport Couture collection 'Scott Elk' after the artist he met in October 2008 in Sydney.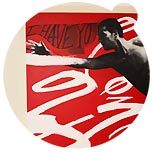 fig.: Scott Elk, 2009.
"Dirk was discovering the city when he was struck by a fiery red painting in the display window of an art gallery. The painting showed a sporty body in motion, combined with graphically composed "calligraphic numbers". Eye in eye with the piece of art that would later on define the theme of his Spring/Summer 2010 collection, Dirk entered the gallery and got himself an appointment with the young Sydney-born artist himself.
Through his painting, Scott Elk managed to stir a side of Dirk that is difficult to move. It was the obvious presence of the sport-related theme and dynamics that did the trick. Dirk certainly did not have to count to eleven before realizing what was happening to him.
Dirk joined forces with Scott, made a series of pictures of Andrea Vasa* in motion back in Milan and asked Scott to create a new series of paintings with those.
The result is what you see on display along the catwalk: 12 paintings of massive impact, announcing the core energy of the Dirk Bikkembergs Sport Couture Spring/Summer 2010 collection."
*Andrea Vasa is a defender at the Milan club Brera. He had lived in an open apartment during the opening days of Dirk Bikkembergs flagship store bikkembergs.com/en/fiches/image-gallery/custom-galleries-pages/andrea-vasa.cfm.


If you take a close look at the collection of the Belgian Dirk Bikkembergs, you will find out that two numbers are dominating: 4 and 7. Probably this shall be a hint that the shop in Milano is in the Via Manzoni 47, opened in February 2009? (Read about the opening of the flagship store in Milano on fashionoffice.org/interior/2009/bikkembergs3-2009.htm.)

Source: Original article with images and video on http://www.fashionoffice.org/culture/2009/scottelk6-2009.htm.


more fashion.at/mobile>
News from
May - July 2009
April - May 2009
Jan - March 2009
October - December 2008