SIGG
summer 2009


Water bottles and a mathematical theory
In 2009, the Swiss maker of reusable water bottles, Sigg presents an artful collection of over 100 new designs inspired by eastern culture, showing rocking floral prints, or bottles with statements such as 'Simply Eco Logical' which is the motto behind these water bottles in general.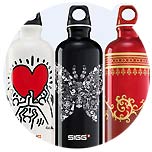 fig.: One of the bottles is made of good, bad fortune and just everyday symbols (second bottle from left in black and white). The symbols look on the first sight like flowers that form a butterfly; probably it is inspired by the prominent butterfly effect from the Chaos Theory which means as much that each of us influences through personal behaviour the system of the world.
This year, two bottles by Keith Haring (first bottle in the row above) in limited edition and, especially for kids, Peter Rabbit and Hello Kitty in smaller sizes are available.
The Sigg bottle, nearly 100 years old, has been collected for its iconic shape by the Museum of Modern Art in New York. Today, the Sigg bottle is used as fashion accessories at the gym, camping, or on the city streets.
The Swiss company Sigg was founded 1908. In 2009, Sigg became a worldwide member of the organization 1% For the Planet. Sigg donates 1% of worldwide sales to eco-causes around the globe www.sigg.com.

Source: Original article with images and video on http://fashionoffice.org/cuisine/2009/sigg7-2009.htm.


more fashion.at/mobile>
News from
May - July 2009
April - May 2009
Jan - March 2009
October - December 2008